APSU Sports Information

Clarksville, TN – Outfielder Josh Wilson scored on a delayed double steal to break a tie in the seventh inning as Austin Peay State University's baseball team downed Eastern Illinois, 5-3, in the Ohio Valley Conference opener for both teams, Friday, at Raymond C. Hand Park.
With the game tied 2-2 in the seventh, Austin Peay (6-6, 1-0 OVC) displayed a little base path magic to break the tie.
Wilson began the inning by reaching on a bunt single followed by third baseman Ridge Smith receiving a base on balls. Wilson then stole third base putting men on the corners with one out.
The Govs then deployed the delayed double steal with Smith enticing the throw to second base. The throw went wide of the bag, allowing Wilson to score and giving APSU a 3-2 lead.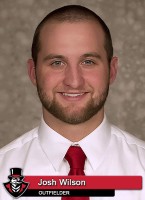 Austin Peay extended its lead in the eighth when first baseman Dre Gleason and Wilson reached base on back-to-back walks. Smith delivered the big hit with a triple that rolled all the way to the wall in right center, with Gleason and Wilson scoring for the 5-2 advantage.
Govs starting pitcher Alex Robles (3-1) limited Eastern Illinois to single runs in the third and fifth innings.
After an infield error helped Eastern Illinois (1-12, 0-1 OVC) score its first run, it produced the game-tying run with a few small ball tactics of its own. Robles surrendered a double and a walk that put the Panthers in prime scoring position. EIU then used a sacrifice bunt to move the runners into scoring position. Designated hitter Demetre Taylor reached on an infield single to drive in the tying run.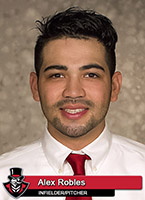 Later, Robles escaped a sixth-inning jam thanks to his own defensive play. After an error put two runners on base with one out, Robles snagged a hard ground ball and threw to second for the inning's second out. Eastern Illinois then attempted a suicide squeeze but Robles fielded the bunt and threw to first in time to record the inning-ending out, securing the 2-2 tie.
Robles ultimately would go a season-long eight innings, allowing two runs (one earned) on six hits. He struck out five of the 34 batters he faced as he recorded his first-ever win against Eastern Illinois.
Reliever Brett Newberg took over in the ninth and saw a deep fly ball elude the Govs defense for a one-out double before surrendering a RBI single to EIU's Dane Toppel. He would induce a foul out before striking out Taylor to end the game for his second save.
Wilson led Austin Peay with a 2-for-3, two RBI performance that also included a pair of runs scored. Gleason extended his hit streak to 10 games with a 2-for-3 outing that saw him score twice. Five other Govs recorded a hit in the nine-hit outing.
Eastern Illinois center fielder Joseph Duncan went 2-for-4 and scored three times. Taylor also had a 2-for-5, one RBI outing.
Panthers starter Matt Wivinis (0-4) suffered the loss after allowing three runs on eight hits in seven innings, despite striking out eight Austin Peay batters.
Austin Peay and Eastern Illinois are scheduled to continue their three-game OVC series with a 1:00pm, Saturday contest at Raymond C. Hand Park.
Box Score
Eastern Illinois (1-12 / 0-1) -vs- Austin Peay (6-6 / 1-0)
| | 1 | 2 | 3 | 4 | 5 | 6 | 7 | 8 | 9 | | | R | H | E |
| --- | --- | --- | --- | --- | --- | --- | --- | --- | --- | --- | --- | --- | --- |
| Eastern Illinois | 0 | 0 | 1 | 0 | 1 | 0 | 0 | 0 | 1 | | 3 | 8 | 0 |
| Austin Peay | 2 | 0 | 0 | 0 | 0 | 1 | 0 | 2 | X | | 5 | 9 | 2 |
W: ROBLES, Alex (3-1) L: WIVINIS, Matt (0-4) S: NEWBERG, Brett (2)

Eastern Illinois 3
Position
Player
AB
R
H
RBI
BB
SO
LOB
lf/2b
TOPPEL, Dane
4
0
1
1
1
1
2
2b/1b
HENNEMANN, Cale
4
0
1
1
0
0
0
dh
TAYLOR, Demetre
5
0
2
1
0
1
1
c
SCHOLL, Jason
4
0
0
0
0
0
2
1b
MORRIS, Hunter
3
0
0
0
0
1
2
ph/rf
PERRONE, Frankie
0
0
0
0
1
0
0
ss
MATON, Nick
4
0
1
0
0
0
0
rf/lf
TESMOND, Tyler
3
0
1
0
1
1
1
3b
GASBARRO, Mitch
4
0
0
0
0
3
1
cf
DUNCAN, Joseph
4
3
2
0
0
0
0
p
WIVINIS, Matt
0
0
0
0
0
0
0
p
THURSTON, Chase
0
0
0
0
0
0
0
p
CLARK, Hunter
0
0
0
0
0
0
0
Totals
35
3
8
3
3
7
9
Austin Peay 5
Position
Player
AB
R
H
RBI
BB
SO
LOB
2b
COPELAND, Garrett
4
0
1
0
0
1
1
cf
MASSONI, Patrick
4
1
1
0
0
0
0
dh
GRAY, Logan
4
0
1
0
0
2
0
p
NEWBERG, Brett
0
0
0
0
0
0
0
1b
GLEASON, Dre
3
2
2
0
1
0
0
rf/lf
WILSON, Josh
3
2
2
2
1
1
0
3b
SMITH, Ridge
3
0
1
2
1
1
3
rf
WILLIS, Imani
0
0
0
0
0
0
0
lf/rf
HAMILTON, Chase
3
0
0
0
0
2
0
ss
SMITHSON, Clayton
4
0
0
0
0
2
2
c
MARIK, T.J.
3
0
1
0
0
0
0
p/ph
ROBLES, Alex
1
0
0
0
0
0
0
Totals
32
5
9
4
3
9
6
Eastern Illinois
Player
IP
H
R
ER
BB
SO
WP
BK
HBP
IBB
AB
BF
FO
GO
NP
Wivinis, Matt
(L, 0-4)
7.0
8
3
3
1
8
1
0
0
0
28
29
4
8
102
Thurston, Chase
0.1
1
2
2
2
0
0
0
0
0
2
4
1
0
16
Clark, Hunter
0.2
0
0
0
0
1
0
0
0
0
2
2
0
1
9
Totals
9
5
5
3
9
1
0
0
0
32
35
5
9
127
Austin Peay
Player
IP
H
R
ER
BB
SO
WP
BK
HBP
IBB
AB
BF
FO
GO
NP
Roblies, Alex
(W, 3-1)
8.0
6
2
1
3
5
0
0
0
0
30
34
7
11
112
Newberg, Brett
(S, 2)
1.0
2
1
1
0
2
0
0
0
0
5
5
1
0
19
Totals
8
3
2
3
7
0
0
0
0
35
39
8
11
131