Clarksville, TN – On February 8th, 2016 at 3:32pm, Kristy Boase stated to a Clarksville Police Officer that on February 5th, 2016 at the Walmart on the 3000 block of Wilma Rudolph Boulevard, she was approached by an unknown black male as she was putting groceries in her vehicle that was parked near the fuel pump area of the lot.
She said she noticed the male standing near a vehicle along with two other black males a short distance away. Boase stated that the male said, "Let me help you with the groceries."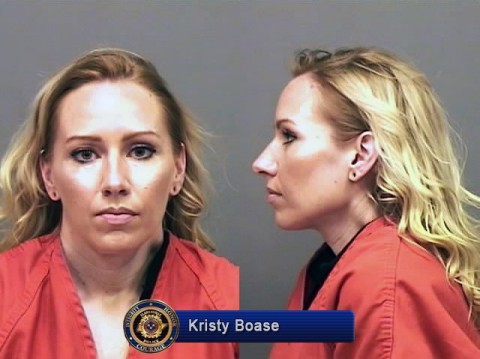 She declined and told him not to come any closer to her. Boase said the male was persistent, and she warned him that she had pepper spray.
Boase said the male got in her personal space, and she sprayed an entire can of pepper spray on the male, and he fell to the ground. Boase drove away and called her husband who instructed her to call the police.
She called her work and asked an employee to give her a specific CPD Officer's cell phone number, which was posted on her work bulletin board. According to Boase, she called the Officer, who advised her dispatch was already notified by a witness and the suspect was in custody for unrelated charges.
After checking the 911 call log during that timeframe, no complaint of that nature was found. The Officer she claimed she contacted said he had never talked to her on that date. A written statement was taken from Boase and forwarded to District 3 Criminal Investigations for further investigation. The statements were submitted as evidence.
During the course of Detective Howard Gillespie's investigation, it has been determined that the incident never happened, and Kristy Boase knew at the time that the information that she provided to responding Officers was, in fact, false.
Yesterday afternoon, 33-year-old Kristy Boase from Adams, TN was booked into Montgomery County Jail for Filing a False Police Report. Her total bond amount is $10,000.
Kristy Boase
Name: Kristy Boase
Gender: F
Race: W
Address: Coves Way, Adams, TN
Arresting Officer: Terrence Byrne
Charged With: False Report
Booked Into: Montgomery County Jail
Bond: $10,000.00