Austin Peay Sports Information

Jacksonville, AL – Senior outfielder Kyle Blackburn had three extra base hits and four RBI but Austin Peay State University's baseball team could not keep Jacksonville State off the scoreboard in a 25-12 Ohio Valley Conference loss, Sunday afternoon at Rudy Abbott Field.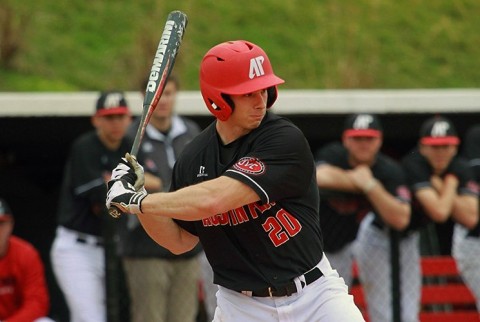 Austin Peay (9-9, 3-3 OVC) got off to a strong start, needing a single hit to build a four-run lead in the first inning.
The Govs used a walk and hit batsman with one out to start applying pressure.
Jacksonville State appeared to escape the inning when designated hitter Alex Robles hit a high chopper up the middle, but the throw bounced in front of and then away from the first baseman, allowing Robles to reach base and a run to score.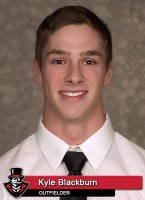 Govs center fielder Chase Hamilton followed with a walk to load the bases. That would last just one batter as right fielder Kyle Blackburn emptied the bases with a triple to center field. JSU center fielder Peyton Williams appeared to catch the ball but it fell to the ground as he hit the outfield fence. Still, Austin Peay led by four runs – its largest lead of the series.
Jacksonville State (13-5, 6-0 OVC) again didn't trail for long, the Govs lead not lasting the bottom of the inning. The Gamecocks sent 12 men to the plate in the first, driving in seven runs with two outs in the inning. Catcher Nicholas Gaddis hit a two-run double into the left center gap that gave Jacksonville State the lead. Center fielder Peyton Williams followed with a  two-run single and second baseman Clayton Daniel added a RBI double to give the Gamecocks an 8-4 lead.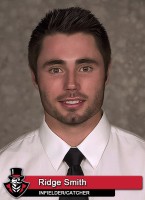 The Gamecocks would go on to score in each of the game's first seven innings. After posting single runs in the second, third, fourth and fifth innings, JSU put the game out of reach with a six-run sixth inning and a seven-run seventh frame.
Austin peay would score just one run between the second and fifth innings. The Govs would hit home runs in the sixth, seventh and eighth innings to close the gap. Catcher Ridge Smith's solo home run in the sixth was his eighth this season – tying the OVC home run lead. Second baseman Garrett Copeland chipped in a two-run home run in the seventh – his season's first. Center fielder Chase Hamilton added a two-run home run in the eighth.
Blackburn finished with a 3-for-5, four-RBI outing, with two doubles and a triple. All nine of the Govs base hits went for extra bases – five doubles, a triple and three home runs – and they also earned eight walks.
Second baseman Clayton Daniels' 4-for-6, four-RBI effort paced Jacksonville State and included three doubles and a triple. The Gamecocks finished with 19 hits, 11 going for extra bases (seven doubles, two triples and two home runs), while they earned 10 walks.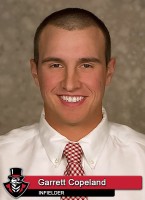 Austin Peay starter Zach Neff (1-4) could not escape the first inning, retiring two of the 11 batters he faced, both via a strikeout. Only reliever Ricky Heagarty – the last of five pitchers out of the bullpen – could quell the Gamecocks, finishing with two scoreless innings of relief.
Jacksonville State reliever Joe McGuire (1-0) benefitted from the JSU outburst. The second man out of the bullpen, he picked up his season's first victory after holding APSU to one run on three hits over 3.1 innings.
Austin Peay concludes its four-game road trip when it travels to Western Kentucky for a 6:00pm, Wednesday contest at Nick Denes Field.