Clarksville, TN – Three juveniles and one adult have been taken into custody in connection with multiple shots being fired at a Montgomery County Sheriff's Office (MCSO) Deputy.
While on patrol, Deputy Adam Liberatore noticed a suspicious vehicle parked at a church at the corner of Lock B Road and Hickory Point Road Friday night at 11:53pm. As he pulled into the church parking lot the vehicle drove off at a high rate of speed onto Lock B Road.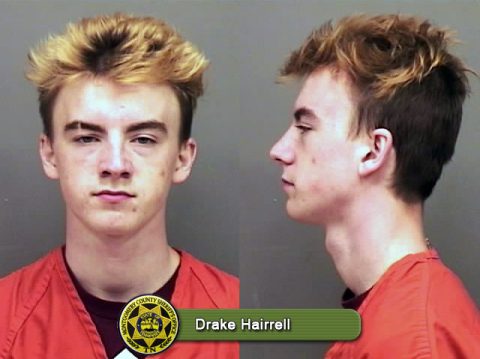 Deputy Liberatore attempted to make a traffic stop for speeding, at which time the front passenger began firing at the deputy and his patrol vehicle.
Deputy Liberatore did not return fire.
As the vehicle approached Old Ashland City Road it slowed down. The two rear passengers, Drake Hairrell, 18, and a juvenile, exited the vehicle and fled on foot. They were apprehended by Deputy Liberatore.
The driver and front passenger, both juveniles, were later apprehended by the Clarksville Police Department (CPD) during a traffic stop.
Two semiautomatic pistols, body armor, and 30 rounds of ammunition were discovered in the vehicle.
The driver will be charged as a juvenile with reckless endangerment and felony evading.
The front passenger will be charged as a juvenile with reckless endangerment and aggravated assault.
The rear passenger was cited for curfew violation and released into the custody of his parents.
Drake Hairrell has been charged with contributing to the delinquency of a minor. His bond was set at $250.00.
No one was injured and no property was damaged during this incident.
Drake Hairrell
Name: Drake Hairrell
Gender: M
Race: W
Address: Earl Road, Clarksville, TN
Arresting Officer: Adam Liberatore
Charged With: Contributing to the Delinquency of a Minor
Booked Into: Montgomery County Jail
Bond: $250.00