APSU Sports Information
Nashville, TN – Lipscomb rallied for four runs in the bottom of the ninth, finishing with a two-out, walk-off single to defeat Austin Peay State University's baseball team, 8-7, Tuesday night at Dugan Field.

A pitcher's duel through seven innings opened up in the final two frames as both Austin Peay and Lipscomb scored five runs apiece.

Both squads took advantage of defensive miscues and walks down the stretch.

Austin Peay opened the late flurry of action thanks to a pair of Lipscomb miscues in the eighth inning.

A catcher's interference call started the inning and was followed by a walk. Right fielder Chase Hamilton came to the plate after a pitching change and put down a sacrifice bunt. Lipscomb mishandled the ball, allowing Hamilton reach first base.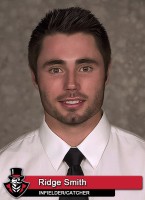 The Governors jumped on the second mistake. Third baseman Ridge Smith laced a single down the third base line for two runs, giving APSU a 4-3 lead. First baseman Dre Gleason chipped in a sacrifice fly and designated hitter Alex Robles tacked on a RBI single to extend the Govs lead to 6-3.
Lipscomb got one of those runs back in its half of the eighth when an Austin Peay error prevented the third out from being recorded. The Bisons followed with back-to-back singles, right fielder Allan Hooker driving in a run and cutting APSU's lead to 6-4.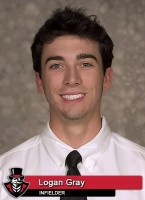 Left fielder Logan Gray would get that run back in the ninth. He lined a 1-0 pitch off the face of the scoreboard in right, his season's 12th home run giving the Govs a 7-4 lead.

Things would unravel in the bottom of the ninth. Austin Peay closer Jared Carkuff struggled to find the strike zone to start the inning, walking the first three batters of the frame. Carkuff would battle back, inducing a pair of strikeouts to get an out away from securing the win.

Lipscomb third baseman Zeke Dodson had other ideas, extending the inning when he hit a 2-2 pitch through the left side for a run. Pinch hitter Tyler Bethune followed with another single through the left side, this one plating two runs and tying the game, 7-7. Carkuff would again get a strike away from ending the threat, but Hooker lined a 0-2 pitch into left field, driving in the game-winning run.

Carkuff (5-1), who was called on to attempt a four-out save, suffered his season's first loss after allowing four runs on five hits and three walks in one inning of work. Governors starter Josh Rye did not factor into the decision after allowing three runs on three hits in two innings.

The Govs bullpen held Lipscomb scoreless for the next five innings with Ricky Heagarty and Brett Newberg each supplying two scoreless innings. Kerice Kimbel would enter the game and added a scoreless seventh before allowing a run in the eighth.
Smith paced Austin Peay's offense with a 2-for-3, two walk, two RBI effort. Shortstop TJ Conroy also finished with a pair of RBI. The Govs recorded just eight hits in the contest but worked six walks out of the Bisons pitching staff.
Reliever Alex Dorso (2-3) picked up the win after pitching the ninth inning and allowing one run. Starter Adam Stewart was left with no decision despite holding APSU to one run on four hits in 6.0 innings.
Hooker finished the game 3-for-5 with two RBI. Lipscomb posted 11 hits and earned five walks – three hits and three walks coming in the pivotal ninth inning.
Austin Peay turns its focus to its regular-season ending series against Oklahoma at Raymond C. Hand Park. The Govs and Sooners will begin that three-game series Thursday.
Sections
Sports
Topics
Alex Robles, APSU, APSU Athletics, APSU Baseball, APSU Men's Baseball, APSU Sports, Austin Peay State University, Bisons, Brett Newberg, Chase Hamilton, Dre Gleason, Dugan Field, Governors, Govs, Jared Carkuff, Josh Rye, Lipscomb, Logan Gray, Nashville TN, Ohio Valley Conference, Oklahoma, OVC, Raymond C. Hand Park, Ricky Heagarty, Ridge Smith, TJ Conroy, Zeke Dodson