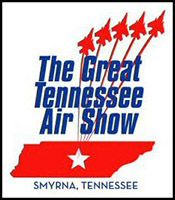 Smyrna, TN – The Great Tennessee Air Show has announced its complete powerhouse lineup for the 2016 show happening Saturday, June 4th and Sunday, June 5th at Smyrna/Rutherford County Airport. The beloved family outing for aviation enthusiasts will consist of a schedule of top air show talent featuring fan favorites such as the U.S. Navy Blue Angels, U.S. Air Force F-22 Raptor Demonstration Team and Breitling Jet Team.
The Great Tennessee Air Show was rebranded in 2005 and prior events in Smyrna were known as Tennessee Aviation Days going all the way back to 1970. So, there is a long tradition of high-flying fun in the region and this year promises to be the best yet.
Additional world-renowned performers include: Team Oracle legendary aerobatic pilot Sean D. Tucker; the GEICO Skytypers airshow team of six vintage WWII aircraft performing precision flight maneuvers; Jim Tobul and the "Korean War Hero" F4U-4 Corsair; Scooter Yoak in his "Quick Silver" P-51D Mustang; Michael Kennedy in the historic Vultee BT-13 Valiant; Special Operations Command Parachute Demonstration Team; Dan Buchanan in his unpowered hang glider; and U.S. Air Force Honor Guard.
Wayne Boggs, of the international reality television show, Air Boss, will serve as air boss. Award-winning broadcast journalist Rick Peterson brings his breadth of aviation knowledge and witty personality as this year's air show announcer.
"With this year's lineup, aviation fans are in for an extra spectacular Great Tennessee Air Show," said John Black, executive director of Smyrna/Rutherford County Airport Authority. "We have assembled elite aviation performers to present what will surely be one of the nation's most talked-about air shows of the season."
Of course, there is always an element of danger at these gatherings of man and machine. It was only last September that Jay Gordon, a Louisville, Kentucky pilot perished while flying a high-performance Russian jet at an air show near Knoxville, Tennessee.
But, a spokesperson for the Smyrna event eased concerns  by saying, "The Great Tennessee Air Show team's motto is – Safety First. No Surprises. Have Fun!".
And, fans should anticipate nothing but fun at the multi-day event as The 2016 Great Tennessee Air Show will also feature multiple static displays, concessions and numerous activities for children. Named one of the "Top 10 Best Air Shows Around the World" by USA Today. The purpose of the air show is for the local community, aviation enthusiasts and newbies alike to get up close and personal with aviation.
Advance priced tickets are available at www.greattennesseeairshow.com. Advance general admission prices are $30.00 for adults and $15.00 for children. Advance box seats are $45.00 with Flight Line Club Advance tickets priced at $135.00 for adults and $75.00 for children (ages 4-12). Ticket buyers can make a donation to Second Harvest Food Bank of Middle Tennessee when purchasing tickets online.