Clarksville, TN – Operation Stand Down Tennessee, located at 400 Madison Street next to Habitat for Humanity ReStore, is a military to civilian transition support program for veterans and their families.
By calling 931.896.2184 or walking in, veterans and their families can receive employment services, health service and benefits navigation, counseling services, legal consultations coordination, and housing assistance.
Served areas include Cheatham County, Davidson County, Dickson County, Montgomery County, Robertson County, Rutherford County, Sumner County, Trousdale County, Williamson County and Wilson County.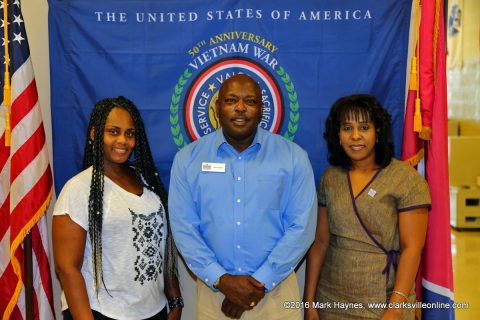 Veterans must have served in the active military or been activated in the National Guard or Reserves either in Tennessee or another state and be currently living in one of the ten counties named above.
All Veterans must have been honorably discharged or have a general under honorable conditions discharge to be eligible.
In addition, the Veteran may qualify if single or married, or be the spouse of a Veteran. Any homeless Veteran expecting to be in permanent housing within the next 90 days or Veterans in danger of losing their housing within the next 90 days may also qualify.
Documentation needed to determine eligibility are a Tennessee driver's license or state ID, a DD214, Social Security card, a VA identification card, copies of any overdue bills, and proof of income (pay stub, disability check, alimony, child support payments, etc.) If applicable, a marriage license, copy of HUD VASH letter or eviction notice may be used as documentation also.
The purpose of Operation Stand Down Tennessee is to assist Veterans and their families so they can be self-sustaining and better connected to the community.
Hours of operation are Monday through Thursday from 8:00am until 4:30pm and Friday from 1:00pm until 4:30pm. The offices are closed on Saturday and Sunday.
In Clarksville, Willie Celestine, U.S. Army Veteran, retired, is the outreach specialist and manager. He reminds Veterans that Operation Stand Down Tennessee has a van and officials will travel to other counties to assist Veterans.
Sandra Gresham, front desk receptionist, is responsible for intake of information on veterans and enters it into the data base, in addition to greeting everyone with a wonderful smile.
The heights by great men reached and kept were not attained by sudden flight, but they, while their companions slept, were toiling upward in the night.

Henry Wadsworth Longfellow
Rhonda Clemmer, CPRS, is a U.S. Army Veteran, and serves as SSVF case manager. She is a certified peer support specialist in the office.
Evelyn Adams is the assistant support services coordinator. She reports that the office on Madison opened in January, 2015, having moved from the Career Center.
Exciting in the near future is the 2016 Clarksville Stand Down Event at Daymar College, 2691 Trenton Road, on September 13th and 14th from 8:00am to 3:30pm. Primarily for Veterans, the public is also invited to attend.
Some of the no cost services provided for Veterans and their families are meals; information about acquiring food stamps; medical, dental, vision, mental health, legal and spiritual assistance; benefits counseling (including disability compensation and education); housing information and  referrals; personal care (such as haircuts); and a job fair with multiple venders.
You may preregister for the event by visiting the Clarksville Operation Stand Down Tennessee office at 400 Madison Street to complete the required form. You need to bring your DD214, member copy 4. Also you can register the day of the event but need your DD 214, member copy 4.
You can learn about other missions and services by going to the website at www.osdtn.org or by calling the office at 931.896.2184.
The purpose of Operation Stand Down Tennessee is to honor the service, commitment and sacrifice for our country that Veterans have provided by furnishing these important services to them and their families. The public can assist by giving donations of clothes or funds to further this cause.