Clarksville, TN – So often we admire paintings and artworks of artists who are not accessible for questions or comments. Not so was the case Thursday night, August  11th. Customs House Museum hosted a gala affair which introduced an exhibit entitled "Women Painting Women 2016".
Featured artists' works included those of Denise Stewart Sanabria who created life size cutouts of people whose only identity were numbers, but whose personalities were evident in the charcoal and pastel pencil on plywood models. They reminded one of oversized paper dolls, just ready to come to life.
Tonja Sell's multi media works have a subtle sparkle and a depth which give the viewer an inkling of what "The Glass Maker", "The Belgium" and "The Mask maker" must have given to perfect their craft, and what each must give up to part with her own creation. There is a luminescence to her paintings that almost gives the feel of looking through tiny drops of ground glass.
Sharon Rusch Shaver's oil on linen is an exciting view of city life in both her "Walking on Ennis" and "Searching for Words". Her color combinations are striking in their simplicity of black and white with just enough color to keep them from resembling a pen and ink on canvas.
Karla Tucker's photographs are soft and subtle, and at the same time strong and feminine.  She is a graduate of Austin Peay State University.  Her "Stardust" is pleasing to the senses.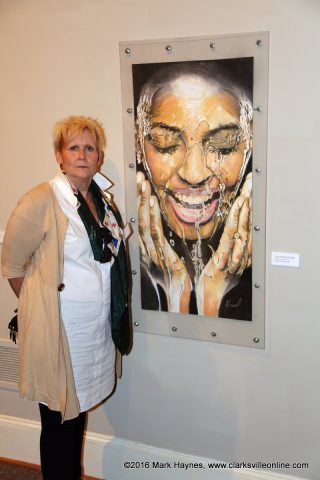 Ann Piper's "The Seer" leaves you wondering what happens next. Her "Camouflage" and "He Loves Me, She loves me not #1" are filled with unanswered questions the keep one thinking long after moving along the gallery, and I found myself going back for a second look.
Both Chantel Lynn Barber and Mira Gerard continue to share their works by teaching. Chanel Barber's specialty is acrylic technique and she currently teaches online. Mira Gerard continues as an art professor at East Tennessee State University in Johnson City Tennessee. I'm sure we will continue to see more of their works.
Terri Jordan was selected for the national Contemporary Women in Art 2016, and her "The Embodiment of riches", "The Temptation and Sweetness of Time", and "The Release" combine both a feeling of traditional  and contemporary emotions and technique.
Julie Clark Howard's pastels are exciting and lively. She shared the origin of her framing technique with this writer during our interview. Julie revealed that her husband, an engineer, found a way to hermetically seal her pastel drawings in an acrylic "sandwich" which preserves the drawing, prevents smearing and gives an extra dimension to her work. Her works need no extra frame and have a joy that is as refreshing as the animated Texan herself.
There is a lot to see and appreciate in this fine exhibit offered by the Customs House Museum here in Clarksville, which is paired with a wonderful sculpture  exhibit from Olen Bryant.  Most of the paintings are reasonably priced and would be a fine addition to anyone's collection.
Photo Gallery