Clarksville, TN – Three Austin Peay State University School of Nursing professors traveled to South Africa earlier this summer to speak about their research at the 27th Sigma Theta Tau International Research Congress.
The congress, with more than 800 nurse researchers from 33 different countries, is the largest nursing research event in the world.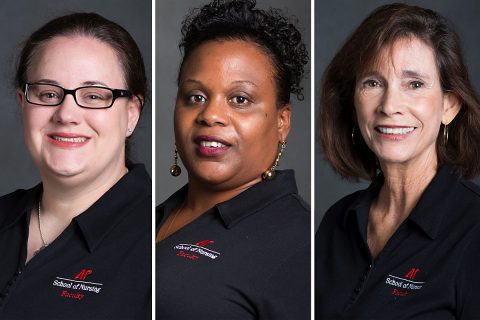 Dr. Patty Orr, professor and Lenora Reuther Endowed Chair of Excellence, and Dr. Shondell Hickson, associate professor of nursing, were invited to the prestigious conference to discuss their research outcomes of lowering blood sugar levels and obesity rates among diabetes patients in a traditionally underserved population.
Their work is in partnership with the Matthew Walker Community Health Center and is funded by a nursing grant provided by the Clarksville Montgomery County Health Foundation.
This grant supports the delivery of primary care by faculty nurse practitioners and disease management by baccalaureate nursing students, resulting in measureable improvement in health status for the patient population.
Dr. Amy Hamlin, professor of nursing, was also invited to the conference to present her research study, "Nursing Educator Retention: The Relationship Between Job Embeddedness and Intent to Stay Among Nursing Educators." Her presentation impressed several members of the congress, leading to her being named a finalist for the congress' 2016 Excellence in Education Research Award. Hamlin originally conducted the study as part of her dissertation, and a Clarksville Montgomery County Health Foundation grant helped to partially fund her doctoral studies.
Last year, the APSU School of Nursing was named one of the top nursing programs in the eastern United States by NurseJournal.org. APSU ranked No. 32 on the journal's list, beating out prestigious nursing programs at places such as Yale University, Johns Hopkins University and the University of Pennsylvania.
For more information on the APSU School of Nursing, visit www.apsu.edu/nursing