Clarksville, TN – On Wednesday, September 7th, there will be a multi-employer job fair held at the Clarksville-Montgomery Public Library from 10:00am until 2:00pm.
The Library is partnering with Goodwill Career Solutions for a multi-employer job fair. There will be over 20 employers with 700+ openings. Bring your resume, photo ID and Social Security Card or birth certificate. Please dress for success and be ready to interview.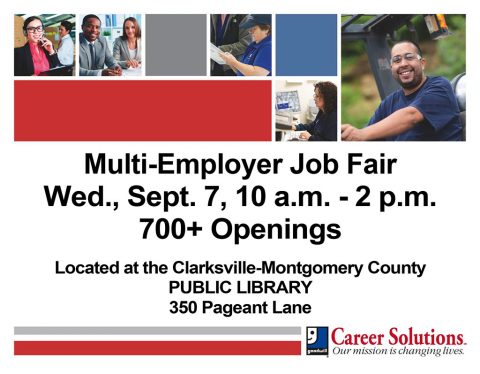 Over 20 Employers: Toys R Us, Best Western Atrium & Suites, Silver Angels, H&R Block, Sam's Club, Tennessee Department of Corrections, Goodwill, Teletech, People Ready, True Blue, Progressive Directions Inc., Gate Pre-Cast, Agero, CMCSS, Macy's Logistics, HG Staffing, R.E. West, At Home Health, Randstad, Convergys, US Marine Corp., Trojan Labor, TransCor American and more.
These employers seek to fill 700+ openings including customer service representative, assembly tech, general labor, event staffing, maintenance, custodian, bus drivers, substitute teachers, aviation, mechanical, administration, manufacturing, construction, skilled trade, power equipment operators, CNA, LPN, PCA, RN, CDL A-Trainee/OTR, membership desk associate, cart associates, cake decorators, direct support, production, fork lift, sales reps, correction officer, carpenter, finisher, tax professional, managers, receptionist, operations support, grill operator, cashier, stocking, home care aide, housekeeping, warehouse associates, and more for Montgomery County, Cheatham County, Robertson County, Stewart County, Houston County, Dickson County, Henry County, Humphreys County, and Benton County in TN and Christian and Logan KY counties! Pay rates vary and range up to $60,000 annually.
Bring your résumé, photo ID and Social Security card or birth certificate.
The Clarksville-Montgomery Public Library is located at 350 Pageant Lane. Clarksville, TN.