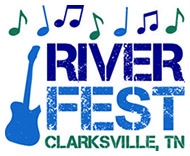 Clarksville, TN – Riverfest Art Experience was a feast for the senses Thursday night. Celtic music by Red River Breeze enticed visitors to drift and dream, and maybe dance a little jig while munching on cheese, grapes, punch and some of the yummiest brownies on the planet.

There were paintings, drawings, photography, multi-media to please almost everyone. I spoke with Brianah Summons about her painting of her favorite animals which included a tiger, a wolf, and a horse all in brilliant colors and could have easily reminded one of carousel animals. Brianah was accompanied by her mother, Cordelia Marroquin who is, I'm sure, the Kenwood High School Senior's best supporter.

I also met Diandre Mosley who sculpted the Man of Steel . He is a delightful young man and very talented. His 3-D Superman was the attraction of the night for the younger (under 6) set. Mothers and fathers were pulled aside to "look here" while the little ones stared wide-eyed at something they could relate to.

There were Yellow Creek crappie with 3-D eyes, fox kits, humming birds, wood peckers and illustrations and photos of beautiful black dogs with sad eyes, just waiting for someone to return. Copper relief bass swam peacefully in their frames, just waiting for the right lure, and a photo of deer skulls mounted on a barn wall gave one food for thought about the souls of long gone animals.

Flowers were in evidence at every turn. Dogwood blossoms and beautifully painted red roses were favorites, and I recognized a Moss Rose tea pot and cup that reminded me of my childhood tea service. Trees grew in fabric and pencil, pen and photographs, and a long forgotten rope swing hides in a beautifully sketched "We all must pass" pen and ink.

We must not forget the portraits of Native Americans, homeless men, children in prayer and tributes to our Military in photography. Victoria York's "Frank: from the faces of the homeless Series" is not to be missed. The tattoo of the young woman's face is haunting and you wonder what part she played in his life.

There is a beautiful drawing of "The Artist" which appeared to be in pastel and white charcoal pencil, and an amusing drawing of Yoda in brilliant green. Not to be missed is the striking "For Richer or Poorer" by Brendt Hardin with a message for those contemplating matrimony.

Uneeda Biscuit by Richard Roir is a delight for those of us old enough to remember it on the side of a downtown building, and Glendalough Cemetery by Carl Balerfous gives us a time to contemplate our time here on earth. The Temple of Apollo also makes an appearance in a photograph by Tabitha Sweitzer.

If you are looking for the unusual, "Smoke Rings" by Mary Sencalaugh is the painting for you, and "The Lobster Dock" by Donna Borris will make you want to sail away.

The exhibit is up for two more days. Please support our local artists and visit this free Art Celebration at the Wilma Rudolph Event Center in Liberty Park.
Professional Art Show Winners of Juried Show
Photo:
What Sparrow May Leave – Sam K.
A Soldier's Sacrifice- April Humpreys
The Agora – Tabitha Sweitzer
Honorable Mention: Waiting Patiently – Becki Mastrian
Honorable Mention: Utah Horsewoman – Carl Papenfuss
Mixed Media:
Myasmal Mask – Melina Ludwig
The Sweet Eye An – Karla Tucker
Bob Dylan – Jennifer Roberts
Drawing:
Rosie's Tea – Charlotte Nelms
The Artist – Travis Stanley
For Richer or Poorer – Brandt Hardin
Painting:
Smoke Rings – Mary Sencabaugh
Lobster Dock – Danna Borris
On the Loop Candles Cover – Janet Felts
3-D:
The Expendable – John Edwards
Dark Room Lamp – Lucas Chambers
Amateur Art Show Winners of Juried Show
 3-D Fiber:
Man of Steel – D. Mosley
The Gilded Cage – Kay Papenfuss
Tree of Hope – Kay Papenfuss
 Photo:
Red Headed Couple – Cheryl Davis
Fox Face to Face – Emilie Gill
It's just B+W – Candy Schryver
Honorable Mention: Blossoms of Spring – Lisa Kemmer
Mixed Media:
The Baptism – Jane Olsen
Yellow Crappie – Eliz Ladd
Extra Issue – Aaron Schmittou
Painting:
Uneeda Biscuit – Richard Rois
Boho Floral – Jane Olsen
The Guardian – Emilie Gill
Drawing:
Frank – Victoria York /  Ed – Victoria York (both drawings first)
Duck Dive – Lucas Chambers
Sippin Coffee- Christina M. Cinkovich
Senior Show Winners of Juried Show
Winner : Red Roses – Mary Lou Baggett
Honorable Mention: Owl – Robert Gandy
High School Art Show Winners of Juried Show
Photo:
Colorful Silence – Abby Haslam
From Within – Sean Gillespie
Feathered Dreams – Jessie Worthy
Honorable Mention: Eroded Beauty – Lexie Mun
Painting:
Untitled (animals) – Brianah Summons
Dragon Cancer – Ebony Diaz
Painted Truck – McKenzie Pepper
Drawing:
Indian – Chris Bender
Untitled – Adonis Bonilla Carrillo
Female – Haiden Greenwell
Honorable Mention: (Water in Glass) – Aglaia Spiliopoulou
Mixed Media:
Body in sliced pieces cylinder – Rebecca Thomack
Owl – Garath May
Female w/head wrap – Cassidy Woods
Photo Gallery
About Jerry Church
Jerry Church is a native Clarksvillian. She graduated from Clarksville High School, and attended Austin Peay State University where she received Bachelor degrees in Arts and Crafts, and Speech Communication and Theatre; and a Masters degree in Psychology. Jerry retired from the State of Tennessee serving the people of Tennessee as a Vocational Rehabilitation Counselor. She is married to Clyde Church and they reside in Clarksville, TN. Her hobbies include quilting, embroidery, basketry, gardening, and reading. Together Jerry and Clyde also enjoy fishing and photography.
Sections
Arts and Leisure
Topics
Becki Mastrian, Brandt Hardin, Charlotte Nelms, Clarksville Parks & Recreation Department, Clarksville Parks and Recreation, Clarksville TN, Donna Borris, Janet Felts, John Edwards, Karla Tucker, Kay Papenfuss, Kenwood High School, Liberty Park, Lisa Kemmer, Lucas Chambers, Mary Lou Baggett, Mary Sencabaugh, Red River Breeze, Riverfest, Riverfest Art Experience, Victoria York, Wilma Rudolph Event Center