Topic: John Edwards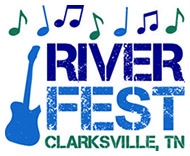 Clarksville, TN – Riverfest Art Experience was a feast for the senses Thursday night. Celtic music by Red River Breeze enticed visitors to drift and dream, and maybe dance a little jig while munching on cheese, grapes, punch and some of the yummiest brownies on the planet.
There were paintings, drawings, photography, multi-media to please almost everyone. I spoke with Brianah Summons about her painting of her favorite animals which included a tiger, a wolf, and a horse all in brilliant colors and could have easily reminded one of carousel animals. Brianah was accompanied by her mother, Cordelia Marroquin who is, I'm sure, the Kenwood High School Senior's best supporter.
«Read the rest of this article»
We apologize that we are posting these so late, but here are the photographs we took during last week's Presidential Preference Primary. Clarksville Online visited most of the Montgomery County Polling places, and these are representative images from that day.
On the Democratic side: Hillary Clinton took Tennessee with 54% of the vote, followed by Barack Obama with 41%. Even though he had already dropped out, John Edwards still took 4%.
On the Republican side: Mike Huckabee won with 34% of the vote, followed by John McCain with 32%. Mitt Romney garnered 24%, and Ron Paul, who has a vocal group of local followers, took 6%.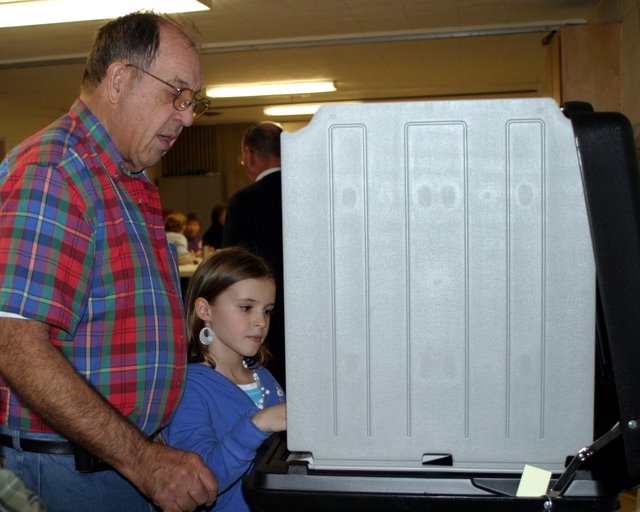 «Read the rest of this article»
Crossing into blue state territory is always an adventure; being in blue state territory as the first presidential caucuses and primaries unfold is, to say the least, exhilarating.
From my cozy corner in a computer lab, far from radio and completely without television's frenetic coverage, I watched the Iowa caucus results unfold on the web: a few surprises, a lot of predictability. Today I keep checking in on the New Hampshire vote.
One of the more interesting quirks in snow-bound New England is the midnight in two of New Hampshire's smallest communities, Dixville Notch and Hart's Location.
Notch voters turned up at the midnight hour to toss seven votes to Barrack Obama, three for Hillary Clinton and one for John Edwards. On the Republican side, Dixville gave John McCain six votes, Romney two and Rudy Giulliani one.
Hart's Location voters put nine votes on Obama's tally sheet, three for Clinton and one for Edwards. As for the Republicans in Hart's location, John McCarn took six votes over Mike Huckabee's five, with Ron Paul taking 4 and Mitt Romney matching Edward's single vote. Reportedly, voters are turning out in significant numbers, and a spate of winter thaw and 50 degree temperatures won't hurt that turnout one bit. «Read the rest of this article»
"Iraq will require U.S. political, economic and security engagement that will extend beyond my presidency." — President Bush

No kidding. It's obvious that whoever is elected to succeed Bush is being handed a mess, a quagmire that some members of the administration say could require U.S. presence in Iraq for ten years or more. It's not an idea drawing popular support.
~~ 5,700 troops home for Christmas ~~
In his speech to the nation tonight, President Bush said he will continue to stay the course without actually saying the words "stay the course." Despite the fact that he has pledged to return 5,700 troops stateside by Christmas, that still leaves approximately 155,000 troops in Iraq, including 25,000 of the "surge" troops. These troops were already scheduled to return home. The only difference is that they will not be replaced. Do the math. «Read the rest of this article»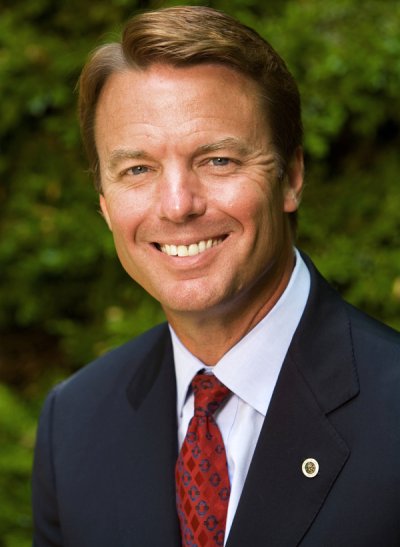 When you can't fight the message, attack the messenger. This is a time tested rule in politics. That is what the political establishment and the corporate news media attempted to do to John Edwards. They attempted to kill his message and credibility, by making snide comments about him, and a $400 hair cut.
John Edwards has strong positions on issues of public importance. His positions have merit and should be discussed and debated in a reasonable society. The political establishment and corporate media would have none of it. Well John Edwards has had enough, and taken steps which should finally put an end to it.
Here's a John Edwards the corporate media, the other candidates, and the political establishment would prefer you never ever saw. «Read the rest of this article»

Hi.
I hope you all got a chance to watch last night's debate. These conversations are all about giving the American people the power to make an informed choice about the future of our country. That's why I take my responsibility so seriously to provide specific, honest and complete answers about my beliefs and my plans.
There were a lot of good questions tonight and I was glad that I got to address many important areas of policy and character. But there was one critical question I wasn't asked – one that's extremely relevant right now as President Bush and Congress are set to face off in Washington. I'd like to answer that for you here:
What should we be doing — right now — to end the war in Iraq?
«Read the rest of this article»

Well, it has been a few days but there's still quite a bit of hubbub about Anne Coulter implying, yes implying not outright stating, that hopeful John Edwards is a "faggot" igniting a firestorm of criticism from both Republicans and Democrats alike. Consider the entirety of Coulter's speech, however. Other high points include ridiculing Al Gore (in regards to his weight), criticism of Senator Clinton (her most rational comments of the night, as they could be construed as legitimate criticism), and a rather lengthy section on Barrack Obama (whom she called something to the effect of Barrack Osama) and his family heritage. When taken in that context are Coulter's comments about Edwards anything other than normal? Not really. The woman does it for a living as the Republican equivalent to Michael Moore and Al Franken (who, incidentally are just as bad as Coulter). So, certainly, by all means, get rid of Ann Coulter, but do it in a manner that will actually work.
I recently received electronic mail from a friend of mine encouraging people to write to the companies responsible for bringing Coulter's venomous rhetoric into the public and encourage those companies to end their relationship with Coulter. The suggestion is actually a great idea. The media operates in a free market (or at least, in name) meaning that as long as Coulter attracts significant attention and makes them money she will continue to be featured by various media. The best method of getting rid of Coulter, and coincidentally all the other two-bit venomous commentators of America, is to convince the people that air their rhetoric that it would be in their economic best interests to sever their ties with them. Of course, a necessary corollary to this plan is to stop paying attention to the likes of Coulter, or to make a joke on Coulter's own words, let her encourage us to conserve energy when we see her on TV by cutting it off and ignoring her.

This is what's at stake in this election. We have two major parties in the most powerful nation on the planet. One of them has been running this country for the last 6 years. Look at what we've got. I mean beyond the scandals and corruption. Look at what's happened in the world. Chaos, danger, and insecurity. It is not too much to say that the future of the world's at stake in this election… That was said by John Edwards, and he's exactly right.
Each person out there knows what must be done. If you have read  the posts on this site since June, you know why. Tommorow sets the path this country takes for 2 more years. Do we the voters swing it back from the edge of the cliff, or do we stay the course until our nation is driven right over the edge. The choice is up to you.