Written by Robert Harrison
U.S. Forces Afghanistan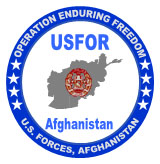 Bagram Airfield, Afghanistan – They look like normal everyday dogs with their tails wagging. But when given the right command by the right person, military working dogs "snap-to," just like the disciplined Soldiers they protect.
Working alongside U.S. service members throughout the world, military working dogs are a dedicated, reliable battlefield companion to the military police (MP) handler. They are always on guard to protect the team, either through bomb detection or when necessary aggressive protection.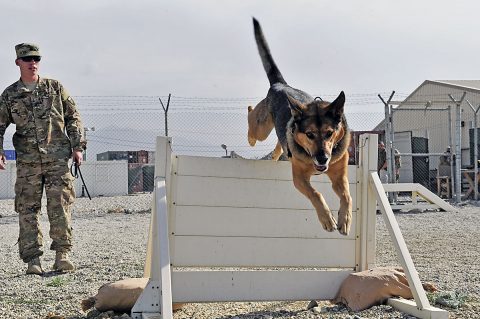 The U.S. Forces Afghanistan (USFOR-A) Military Working Dog (WMD) Detachment provides this canine capability at Bagram Airfield and supports other MWD units operating throughout the theater. The Bagram detachment is comprised of Soldier and dog teams deployed from Army installations across the United States.
Staff Sgt. Edmond Adams is the USFOR-A Theater Kennel Master who deployed from Fort Campbell, KY. He is responsible for validating all U.S. military MWD teams and certifying the contract MWD teams operating in Afghanistan. Adams approves and provides oversight for training plans, coordinates assignment of handler/dog teams to specific missions, and advises how best to employ the teams.
"They all come through BAF [Bagram Airfield]. We'll train all the TTPs [Tactics, Techniques, and Procedures], then they get out to the FOBs [Forward Operating Bases]," said Adams.
"We train with the dogs every day to keep our skills sharp. We set training goals for the week and for the month," he added.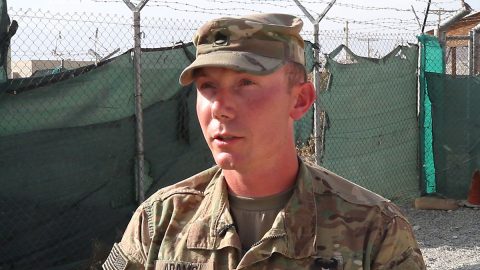 Although filling a position rated for a higher rank, Adams is successfully accomplishing the support for all U.S. forces here, and leading a Bagram team that wasn't assigned together before arriving at BAF.
"It takes good time management and it's beneficial to train with all different dog handlers from different installations," Adams noted.
"They can see that hard work pays off. You have to always be teaching the junior NCO's, always lead from the front. Always be there with our Soldiers training them to prepare for war," Adams added.
Sgt. Ethan Taylor led his dog Alex through the training obstacle course to demonstrate one part of the team training regimen. The course prepares the dogs to orient and complete their mission no matter what environment the team encounters. The course helps the dog overcome any apprehension about crawling into tight spots, or climbing on top of high structures, according to Taylor.
"Dogs also have to get used to the higher altitude and temperatures [in Afghanistan]. The temperatures are harder on the longer-hair dogs. But, they acclimate just like everyone else," said Taylor.
Taylor and Alex deployed from the 8th MP Detachment at Fort Drum, NY. Taylor is originally from Flint, MI, and has been in the Army for nearly four years. Alex is a six-year-old German Shepard who has been in the Army for five years. Taylor and Alex have been a team for two and half years.
Military working dogs are permanently assigned to an installation. The handler/dog team will generally work together until the handler is reassigned to another post. Handlers and their dogs deploy together to Afghanistan from their home station.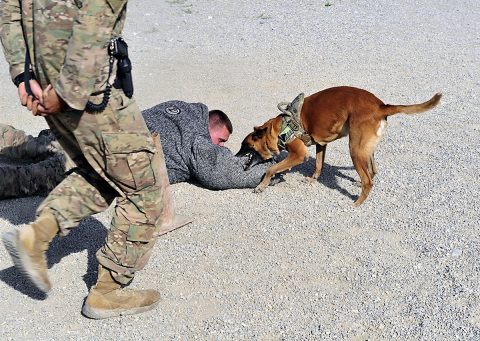 "We deploy with our dogs just like weapons systems," added Taylor.
Sgt. Jay Espinosa and his team mate Bbailey demonstrated how a working dog controls someone on the battlefield.
Bbailey's name is spelled with a double first letter to identify that she was bred and raised at the Department of Defense military working dog breeding program at Lackland Air Force Base, Texas. This program only provides a portion of the working dogs necessary to supply the force. Most dogs are procured from commercial breeding programs, according to Adams.
Sgt. Taylor donned a 'bite suit' and 'attempted' to flee the training area. Bbailey keenly watched Taylor run away but dutifully awaited Espinosa's command. As Espinosa released the lead, she darted and quickly overtook Taylor. She wrestled him to the ground and waited until Espinosa arrived.
"She is very protective of me," Espinosa added as he described working with Bbailey. "I think she has her own personality. I like to call her 'my little diva.' We're both an elite team. She listens to me and we get along fine."
Bbailey and Espinosa deployed from the 904th MWD detachment at Fort Benning, GA. Bbailey is a seven-year-old Belgian Malinois and they have worked together for eight months.
Espinosa is on his first tour to Afghanistan. This is Adams' and Taylor's second tour here; however, Adams also has a tour in Iraq. Each of them arrived at different times with their dogs. They all agree the differing numbers of tours and different arrival times benefit the whole team with a wealth of experiences.
Partnering a well-trained MP with a well-trained dog is a powerful combination on the battlefield. The military working dog team is a potent combat multiplier that helps protect the force and ensure mission success, according to Adams.
When Adams was asked about the most important thing he tells his team each day, he replied, "If we don't spot an IED, that's failure…failure is not an option!"