APSU Sports Information
Clarksville, TN – Looking ahead to its 2018 campaign, Austin Peay State University's baseball team addressed its foreseeable needs by adding seven players to its roster during the early signing period.
Austin Peay added two pitchers, a pair of two-way players, two infielders and a catcher to its 2018 roster.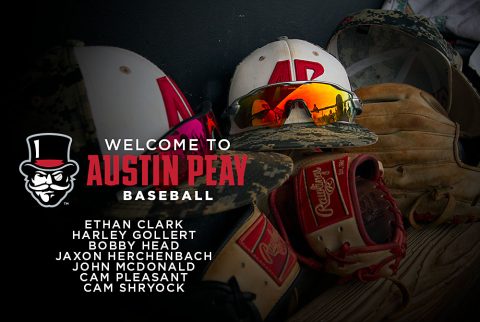 Joining the Govs during the early signing period were right-handed pitcher Ethan Clark, left-handed pitcher Harley Gollert, infielder Bobby Head, two-way man Jaxon Herchenbach, infielder John McDonald, catcher Cam Pleasant and two-way man Cam Shryock.
The Governors enter the upcoming 2017 season knowing it will be the last for five members of its roster and looked to address those gaps with the signing class.
The talented senior class includes two-way man Alex Robles, first baseman Dre Gleason, outfielder Chase Hamilton, right-handed pitcher Caleb Powell and right-handed pitcher Jordan Witcig.
2017 Govs Early Signing Period Additions
Ethan Clark
6-0 · 170 · Right-Handed Pitcher
Ringgold, Georgia (Gordon Lee HS)
Posted a 7-1 record and 2.06 ERA as a junior, striking out 73 batters in 54.1 innings pitched for Gordon Lee High School and head coach Mike Dunfee… also batted .309 with 17 RBI… named second-team all-state by Georgia Dugout Preview… also was a first-team all-region selection and named to Walker County Dream Team… plays summer baseball for Xposure Baseball under coach Brandon Turner… was a Perfect Game Preseason High School Underclassmen All-American in both 2015 and 2016.
Harley Gollert
6-0 · 170 · Left-Handed Pitcher
Toronto, Canada (St. Michael's College School)
Named to Team Canada Junior National Team roster and played in Cuba Summer Series, starting on the mound for final game in series… Twice selected to play in Canadian T12 Showcase tournament… Plays summer baseball with Ontario Blue Jays under head coach Sean Travers… named to 2015 Perfect Game World Wood Bat Championship All-Tournament Team after tossing five shutout innings in tourney play.
Bobby Head
6-4 · 195 · Infielder
Winter Garden, Florida (West Orange HS)
Batted .314 with five doubles and 14 RBI as a junior, helping West Orange post a 27-3 record and reach the Class 9A state semifinals under head coach Jesse Marlo… played summer baseball with Orlando Scorpions under coach Brian Dempsey… named to Perfect Game Preseason Underclassmen Honorable Mention All-American in 2016.
Jaxon Herchenbach
6-2 · 190 · Right-Handed Pitcher/Infielder
Downers Grove, Illinois (Hinsdale South HS)
Posted a 4-2 record and 2.21 ERA over 40 innings as a junior at Hinsdale South High School under head coach Paul Hoel… Helped Hinsdale South claim 2016 West Suburban League championship as a junior… played summer baseball for Team Demarini under head coach Jared Koutnik… named to Perfect Game Preseason Underclassmen Honorable Mention All-American in 2016.
John McDonald
6-2 · 210 · Infielder
Birmingham, Alabama (Oak Mountain HS)
Batted .388 with eight doubles and 31 RBI as a junior to help lead Oak Mountain to Alabama Class 7A quarterfinals and a 28-14 record… named first-team Birmingham All-Region by AL.com and honorable mention all-state by Alabama Sports Writers Association… Plays summer baseball for Oak Mountain Baseball Club coached by Loren Stiffler… named to all-tournament team at 2016 17U Perfect Game Evoshield Classic.
Cam Pleasant
6-0 · 225 · Catcher
Eads, Tennessee (Christian Brothers HS)
In first season at Christian Brothers, batted .320 with 15 RBI and a .440 on-base percentage to lead Christian Brothers under head coach Buster Kelso to Division II Class AA state title… batted .428 with four RBI in state tournament… named to Tennessee Baseball Report's 2016 players to watch… Plays summer baseball with Dulins Dodgers under head coach Tim Dulin… named to Perfect Game Preseason Underclassmen Honorable Mention All-American in 2016.
Cam Shryock
6-1 · 160 · Right-Handed Pitcher/Infielder
Bowling Green, Kentucky (South Warren HS/Western Kentucky/Wabash Valley)
Will play 2017 season at Wabash Valley College under head coach Rob Fournier… Began collegiate career at Western Kentucky in 2016, where he made four relief appearances… Prepped at South Warren High School under head coach Chris Gage… In senior season posted 10-0 record and 1.00 ERA with seven saves, finishing with 78 strikeouts in 63 innings pitched… In senior season threw no-hitter in Region 4 Championship, walking only two batters in seven innings… finished prep career with 31 career wins, 15th most in state history, including seven postseason wins… was a four-time all-district and all-region selection… two-time (2014 & 2015) Kentucky High School Baseball Coaches Association All-State selection… named to 2015 Kentucky High School State All-Tournament Team after not allowing a run in two appearances totaling 5.1 innings, including five shutout innings in opening-round victory against Daviess County.