Nashville, TN – Cranberries were seldom seen outside the holiday season and even then they were primarily served as sauce with the turkey just a few years ago. Now, sweetened, dried cranberries, along with cranberry juice and sauce, are enjoyed throughout the year. Fresh cranberries are generally available only from September to December, but you can find frozen berries all year round.
"The popularity of baked goods like cranberry muffins, scones and breads has helped us appreciate the unique, tart and tangy flavor of these little berries. Since dried and frozen products are easily accessible, we can include cranberries in our favorite recipes any time," observed Martha White® baking expert Linda Carman. "However, since the harvesting season for fresh cranberries so perfectly corresponds with our holidays and the tradition is so strong, cranberries will always be a part of holiday celebrations."
Native American Fruit
Native to North America, cranberries (one of only three native fruits along with blueberries and concord grapes) were used by Native Americans for food, medicinal purposes and dye for blankets, rugs and clothing. Having shared their know-how with the Pilgrims, cranberries were probably served at that very first Thanksgiving feast. And the berries were taken aboard ships and eaten by sailors to prevent scurvy on long sea voyages. As a result, cranberries were the first American fruit to arrive in Europe.
Although cranberries grow wild, they are hard to find since they grow only in lowland bogs. The Cape Cod region was the first to successfully cultivate cranberries which thrived because of the climate, soil and local lowlands. Cranberries are actually grown in dry beds although we often see pictures of cranberries floating in a field of water. Flooding aids in harvesting and protecting the plants from freezing.
Cranberries for the Holidays
Cranberry sauce is certainly a holiday tradition for most families. Many folks have a sentimental attachment to the wiggly, jellied cranberry sauce of their childhood, while others use fresh berries to make a sauce, relish or a congealed salad. But when it comes to holiday baking, cranberries really shine. Added to cornbread dressing, baked in a pie, cake or muffin, cranberries add a tang and explosion of color that make any recipe special.
Winter Cranberry Tart with Cinnamon Whipped Cream is easy to make in a 9 x 13-inch baking pan. The brown sugar crust is simply pressed into the pan. Just bake a few minutes, pour on fresh cranberry filling, bake a few more minutes and you'll have a memorable dessert to serve throughout the holiday season. Top off a holiday brunch with Cranberry Sour Cream Coffeecake topped with canned whole berry cranberry sauce. Cranberry and almond flavors pair beautifully to create this delectable festive coffee cake. And Cranberry Pecan Corn Muffins create a taste sensation equally delicious for breakfast or as a surprise accompaniment to holiday dinners. Made with a convenient sweet corn muffin mix and dried cranberries, these muffins are so moist and flavorful you'll be making them all year round.
For more holiday recipes, visit us at www.marthawhite.com.
Winter Cranberry Tart With Cinnamon Whipped Cream
Ingredients
Crisco® Original No-Stick Cooking Spray
Crust
2 1/2 cups Martha White® All-Purpose Flour
1/3 cup brown sugar, firmly packed
1/2 teaspoon salt
10 tablespoons cold butter
Filling
3 large eggs
2/3 cup brown sugar, firmly packed
1 tablespoon cornstarch
1/2 teaspoon salt
2/3 cup light corn syrup
1/4 cup butter, melted
1 teaspoon vanilla extract
1 1/4 cups coarsely chopped, drained cranberries
1 cup coarsely chopped walnuts
Cinnamon Whipped Cream
1 cup whipping cream
1 tablespoon granulated sugar
1/2 teaspoon cinnamon
Directions
1. Heat oven to 350° F. Spray 13 x 9-inch pan with no-stick cooking spray. Combine flour, 1/3 cup brown sugar and 1/2 teaspoon salt in medium bowl; mix well. Cut in 10 tablespoons butter with pastry blender or fork until mixture resembles coarse crumbs. Press mixture firmly in bottom and about 1 inch up sides of prepared pan. Bake 20 minutes and prepare filling while crust is baking.
2. Beat eggs in large bowl. Add all remaining filling ingredients except cranberries and walnuts; mix until smooth. Stir in cranberries and walnuts.
3. Pour filling into partially baked crust. Return to oven; bake an additional 25 minutes or until filling is set. Cool on wire rack 1 hour or until completely cooled. Store in refrigerator.
4. Whip cream with granulated sugar and cinnamon. Cut tart into squares. Top with whipped cream.
12 servings
Cranberry Sour Cream Coffee Cake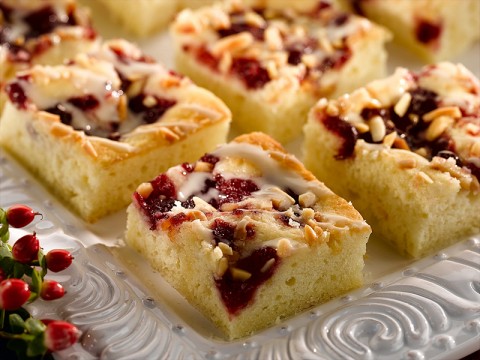 Ingredients
Crisco® Original No-Stick Cooking Spray
Coffee Cake
1 cup butter, softened
1 cup granulated sugar
2 large eggs
1/2 teaspoon almond extract
2 cups Martha White® Self-Rising Flour
1 cup sour cream
1 cup whole berry cranberry sauce
1/2 cup chopped blanched almonds, toasted*
Glaze
1 cup powdered sugar
2 tablespoons milk
1/2 teaspoon vanilla extract
Directions
1. Heat oven to 350° F. Spray 13 x 9-inch pan with no-stick cooking spray. Beat butter and granulated sugar in large bowl, with electric mixer at medium speed, until light and fluffy. Add eggs and almond extract. Beat well. Add flour alternately with sour cream, beginning and ending with flour. Mix well after each addition. Pour batter into prepared pan.
2. Spoon cranberry sauce evenly over batter. Spread lightly but do not try to cover batter. Sprinkle evenly with almonds.
3. Bake 35 to 40 minutes or until cake begins to pull away from sides of pan. Cool in pan on oven rack 5 minutes.
4. Stir together glaze ingredients in small bowl. Drizzle over warm coffee cake.
TIP: * To toast almonds: Place almonds in baking pan. Bake at 350° F. for 5 to 7 minutes, stirring after 3 minutes, until lightly browned.
12 servings
Cranberry Pecan Corn Muffins
Ingredients
Crisco® Original No-Stick Cooking Spray
2 large eggs
1/2 cup milk
1 cup sour cream
1/4 cup butter, melted
2 (7 oz.) pkg. Martha White® Sweet Yellow Cornbread Mix
3/4 cup sweetened dried cranberries
1/2 cup chopped toasted pecans*
Directions
1. Heat oven to 400° F. Spray 12 muffin cups with no-stick cooking spray. Beat eggs in large bowl. Add milk, sour cream, butter and cornbread mix. Stir just until smooth. Stir in cranberries and pecans. Fill muffin cups 3/4 full.
2. Bake 18 to 22 minutes or until lightly browned. Cool in pan 2 minutes. Remove from pan.
TIP: *To toast pecans: Place pecans in dry nonstick skillet; cook over medium heat, shaking pan until nuts are lightly browned. Or place pecans in a baking pan. Bake at 350° F. for 10 to 15 minutes, stirring every 5 minutes, until lightly browned.
12 servings
---
Crisco is a registered trademark of The J.M. Smucker Company