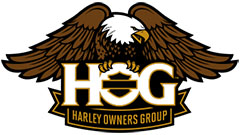 Clarksville, TN – Kicking off the new year with it's annual open house and membership drive, the Tuckessee Chapter of the Harley Owner's Group (H.O.G), welcomed twelve new members to it's membership Saturday night.
Meeting at the H.O.G chapter house located at Appleton's Harley-Davidson in Clarksville, chapter director Jason Altenburg welcomed the membership with a review of the past year, and announcing plans for 2017. "We're excited about what we've got planned for this year" said Altenburg.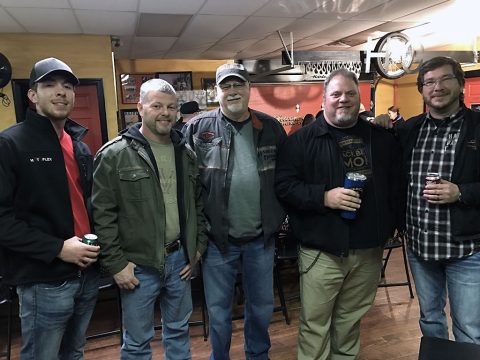 In 2016, the Tuckessee Chapter sponsored several trips, area rides, and fundraising events to support the Clarksville community. One of their local charities was Manna Cafe, where members volunteered to help feed the homeless. Members also raised money gift wrapping Christmas gifts over the Holiday period.
"We've had a very successful year" said Altenburg. "Our plans for 2017 are exciting, and I encourage all of you to be as involved as you can be and we can do great things."
Membership in the Harley Owner's Group is required before you can join any local chapter. Harley-Davidson motorcycle owners are eligible for membership, and there are rewards and discounts on Harley merchandise.
The 2017 slate of officers announced for 2017:
Director-Jason Altenburg
Assistant Director-Chip Turner
Secretary-Alicia Turner
Treasurer-Claude Hutchinson
Membership-Sandy Perry
Webmaster/Social Media-Kayla Blackman
Head Road Captain-Tosh Blackman
Photography/Video-Anthony Roberson
Safety Director-Mike Allen
The purpose of the Tuckessee Chapter of H.O.G is to bring together motorcycle enthusiasts for fellowship, community involvement and of course taking to the open road for travel. Safety was a focus of the meeting as safety director Mike Allen emphasized.
"Our number one priority is to encourage safe riding, whether as a group, or when we're just taking an afternoon ride through the countryside" said Allen. "We want to promote a sense of awareness among our membership, that safe riding is a priority and should not be taken lightly."
Chip Turner emphasized the value of participation.
"When I first joined this chapter, I didn't really have that good of a time, but mainly because I didn't participate as much as I should have. Once I began joining the rides, and getting involved in the chapter, I've had a blast. I encourage all of you to get involved. You'll make great friends and you will enjoy your Harley more than ever" Turner said.
The chapter welcomed twelve new members at the meeting, many of them excited about getting involved with a group of like minded bikers who are all on their own special journey with their bikes. The sense of community and brotherhood is what draws the group together, but the love of motorcycles, especially Harley-Davidson, makes the chapter click.
Altenburg emphasized what a great year lays ahead.
"We have a special trip planned to Milwaukee this year that includes a day at the ballpark with the Milwaukee Brewers." "We'll also get to visit the place where it all began for Harley-Davidson, so we hope you can make plans to take this trip with us."
The Tuckessee H.O.G meets monthly. More information can be found at their website, www.tuckesseechapter.com
Visit Appleton's Harley-Davidson located on the 41-A by-pass for more information about H.O.G, or to test ride your next motorcycle.
Photo Gallery