Clarksville, TN – Friends and fans of a local rock-n-roll legend, will gather at The Warehouse Concert Lounge and Event Center, on January 22nd to raise money for his family.
Gary "Roundman" Curtis died suddenly on November 7th and is being remembered for his generosity and love of music. "Roundman" led the local band "Myth" and was a non-stop music man. Myth could always been seen and heard around the local club scene, but they were always involved in the Bikers Who Care Toy Run events and outdoor concerts.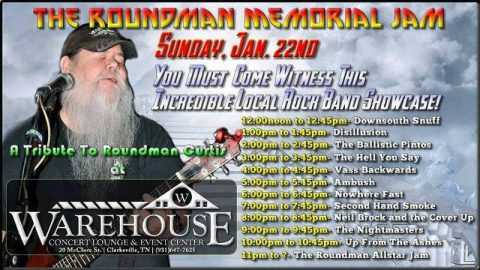 Tim Mohan a retired veteran remembers his friend Roundman as a giving, fun filled guy who was always willing to help.
"I used to always joke that the reason Roundman was as wide as he was tall was because he needed all the room for his big heart" Mohan said. "He always had a smile on his face and was always looking for the good in everything and everybody."
The loss of Roundman has left a void in the local music scene, but more importantly, a loss of one of the Clarksville area's favorite musicians. Kenny Baxter, a music junkie himself remembers his friend.
"I've known Roundman for over thirty five years and the band Myth was one of the premier bands in the Clarksville area." "Everybody knew and loved Roundman. His smile and personality were solid gold," said Baxter.
The doors open at noon and there's a five dollar donation at the door. Food and beverages will be available on a "donation" basis, featuring Bar-B-Q from Excel Market. There will be a silent auction and a 50/50 drawing with guitars, gift certificates and a Paul Stanley autographed guitar up for auction.
Some of the local bands who have agreed to participate include:
The Ballistic Pintos
Downsouth Snuff
Disillusion
The Hell You Say
Vass Backwards
Ambush
Nowhere Fast
Second-Hand Smoke
The Nightmasters
Neil Brock and the Cover Up
Up From the Ashes
The night will conclude with an all out "Roundman Jam" with the stage flooded with musicians to pay tribute to there dear departed friend.
If you would like more information, contact Tim Moran at, 931.338.2354. If you would like to make a donation for the silent auction or contribute in any way, organizers are hoping that the community will support this event, as Roundman would himself.
You can also visit the Facebook page for this event.