Clarksville, TN – Would you like to navigate a police driving course or punch some holes in silhouette targets at a police firing range? Local citizens will get a chance to learn both general law enforcement procedures and specific details about their local police department in the 2017 Spring Citizen's Police Academy.
The mostly 6:30pm to 9:00pm classes will include introductions to criminal investigations and patrol operations and topics such as homicide and crime scene investigations. Participants can drive police cars, shoot firearms, and tackle use-of-force decision-making exercises.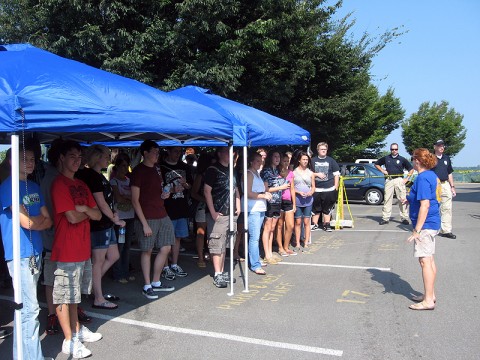 Demonstrations by the Clarksville Police Department Tactical Unit, the C.P.D. K9 Unit, and the Montgomery County Sheriff's Office Bomb Squad are also scheduled.
Applications are available for the upcoming Citizen's Police Academy (CPA) class, which begins on March 7th, 2017 and ends with the graduation ceremony on May 30th, 2017. The CPA class covers all facets of the Police Department's activities, from administration to tactical operations.
The Academy is free, and you can download the application from the link below. Return completed applications to Police Headquarters at 135 Commerce Street. Blank applications are also available at Police Headquarters.
CPA Application link: http://www.cityofclarksville.com/modules/showdocument.aspx?documentid=792
Link About the Citizen's Police Academy- http://www.cityofclarksville.com/index.aspx?page=442
If you have any questions, please contact Officer Gregory Granderson at 931.648.0656, Ext. 5239.