APSU Sports Information

Clarksville, TN – This weekend in Bowling Green, KY, Austin Peay State University's softball team will return to action for the first time in 12 days as they participate in their second in-season tournament of the year at the WKU Hilltopper Spring Fling.
On Friday, the Govs will play two games at Buchanon Park – opening with a 1:30pm contest versus Illinois State (3-4), followed by a 4:00pm game against Wright State (2-3).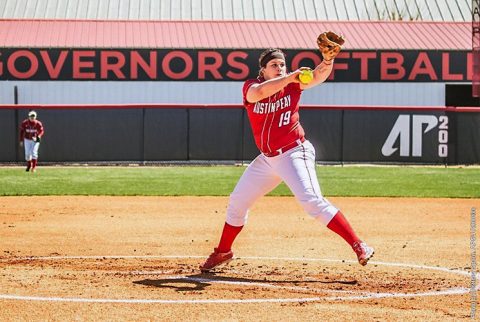 Saturday and Sunday's games will be at the WKU Softball Field on campus, with the Govs playing Saturday, at 5:30pm, versus Indiana State (2-3); while Sunday games are at 12:30pm versus IUPUI (2-8) and 3:00pm against WKU (5-4).
The Hilltopper Spring Fling will be the first action for the Governors (3-1) since February 11th-12th, when they participated in the Phyllis Rafter Memorial Tournament, in Kennesaw, GA.
In that opening weekend, sophomore catcher Carly Mattson led the Govs with a .615 batting average, going 8-for-13 at the plate – including two doubles, three home runs – while scoring five runs and driving in six.
Mattson earned adidas ® Ohio Valley Conference Co-Player of the Week honors following that opening weekend.
Seniors Rikki Arkansas (outfield) and Christiana Gable (first base/pitcher) also recorded .300-plus batting averages over that season-opening weekend, with Arkansas posting a .385 batting average – and team-best seven runs scored and two stolen bases – while Gable batted .308.
Sophomores Kacy Acree (outfield), Danielle Liermann (third base) and Kendall Vedder (shortstop) along with freshman Cassidy Hale (first base) hit home runs over the opening weekend, as the Govs hit eight round trippers in four games that opening weekend.
In the circle, Austin Peay is led by senior Autumn Hanners, who authored a 2-0 record, with a team-best 1.91 ERA and eight strikeouts in 11 innings of work.
Freshman Kelsey Gross (1-1) picked up the other win, with three strikeouts in 10 innings worked.