Written by Joe Pitts
Tennessee State Representative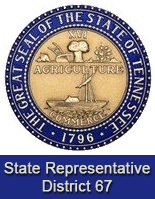 Nashville, TN – Hiring Preferences for Veterans – House Bill 165/Senate Bill 209 (Senator Mark Green, R-Clarksville) passed the House of Representatives by a unanimous vote. The Senate Commerce and Labor Committee also passed the legislation by a unanimous vote on March 7th, 2017. It should be heard in the full State Senate next week.
"Thank you to my colleagues in the House for their support of this legislation to help the business community hire veterans and family members of veterans. This was indeed a group effort beginning with the Montgomery County Veterans Coalition and the hundreds of veterans who descended on Nashville last month to push for passage. That support made the difference," Tennessee State Representative Joe Pitts said.
This legislation was brought to us by the U.S. Department of Defense. Many companies would like to give special consideration for hiring veterans because of their unique skill sets, proven work ethic, and reliability, but may be hesitant to do so out of concern of violating Title VII of the Civil Rights Act of 1964.
Title VII, Section 11 of the Civil Rights Act, however, contains a carve-out that exempts veterans' preference processes that are authorized by state statue.
Other bills of note, HB 500 sponsored by Rep. Pitts, passed the House and Senate Health committees and is scheduled in the House Finance Sub Committee next week. The legislation should also be heard on the Senate floor next week.
This legislation was requested by members of the Board of Osteopathic Examination to increase members' per diem reimbursement for their meetings. These volunteers spend precious time away from their medical practice, seeing patients, to provide guidance and oversight of Doctors of Osteopathic Medicine.
Senate Joint Resolution 0005 was scheduled in the House State Government Full Committee but was postponed for a week due to the committee's allotted time expiring before the bill was heard. This resolution would request the U.S. Department of Veterans Affairs to locate a veterans hospital in Clarksville, TN.
CDE Lightband visits the State Capitol for the Tennessee Electric Municipal Power Association Day on the Hill.
If you have questions about the above or other issues of concern, please call me at 615.741.2043, or email me at