Written by Joe Pitts
Tennessee State Representative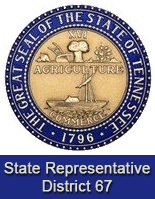 Nashville, TN – In 2006 the folks of House District 67 gave me the high honor of electing me the first time to be their State Representative. I always referred to the opportunity as a "two-year contract" between me and those that I represent. And I knew I would one day have to say good-bye to this opportunity and that day is on the horizon.
At the conclusion of the 110th Tennessee General Assembly, in 2018, I will retire from this season of service. The time just seems right. It is time for me to step aside, and allow another citizen legislator to experience the excitement of helping their constituents…some of the finest people anywhere.
Some will ask why I am announcing so early. Two reasons: first I want to give the voters of House District 67 plenty of time to examine the candidates who seek this office. We have to move beyond single-minded ideology, blind party loyalty, and personalities and really examine the fruit of the candidates' lives.
The remainder of 2017 and the 2018 campaign year will allow voters, including me, to ask the hard questions and look at past performance of people in our community. Will they fairly represent me? Will they answer my call or email and help us with a problem? Can they set aside politics and do what is right for all of district 67 or will they only serve a narrow interest group?
And what have they done in the past to serve our community or have they just helped themselves? You can bet that I will speak out against those who serve only themselves.
And second, I want those who think about seeking this office to have time to truly evaluate and examine the time commitment it takes. The office is very demanding but highly rewarding. It will take countless hours to serve and if they hold another job, their employer, like mine at Planters Bank, will have to be very patient and accommodating of the calls, meetings, emails and time away.
Growing up in Clarksville, I never imagined I would have the opportunity to serve my community in the Tennessee House of Representatives but the experience has been the best. I have tried to be visible and attend as many events as my schedule and energy would allow. I also tried, but sometimes missed the mark, to return calls or emails quickly knowing you needed to get me a message or tell me your thoughts on matters before your state government.
The office to which you entrusted to me is really much bigger than one person. Those who served before – McMillan, Ussery, Knight, and others – knew public service is a high and noble calling, and each served this wonderful district to the best of their abilities.
I cannot end without expressing my appreciation to my wife, Cynthia, who over the past eleven years, has walked beside me every step of the way. Without her presence, wisdom, counsel, and prayerful support, this journey would not have been as sweet nor as fulfilling.
So I will complete my sixth term just as I started my first by making you my first priority, voting according to the best interests of House District 67 and our beloved state, and looking with excitement to the future. I will also remain vigilant in this era of uncertainty to guard against any idea or person that seeks to limit our citizens' ability to exercise their freedoms, raise a family, live a productive life, or worse, impose their will on us.
The best days of our community and state are ahead of us. And there is no other way to express my appreciation to you other than with two simple but powerful words – THANK YOU.
Joe