Nashville Predators Game 5 & 6 events will be at Wilma Rudolph Center
Clarksville, TN – The City of Clarksville will continue its series of Predators Stanley Cup Finals viewing parties Thursday and Sunday at the Wilma Rudolph Events Center in Liberty Park.

A new twist will be added, with organized pregame activities for families on the amphitheater lawn outside the events center.

"The Wilma Rudolph Events Center proved to be a great place for the party on Monday," Clarksville Mayor Kim McMillan said.

"Our Parks & Recreation Department is all about family fun and fitness, so we're adding some pregame fun and skills contests to expand the events. Plus, with the screen inside the events center, the early game viewing quality is improved, and a lot of people said they liked the convenient parking, restrooms and other facilities at the center," McMillan stated.

Food and beverage vendors will set up early Thursday and Sunday and activities near the Wilma Rudolph Events Center will start at 4:30pm both days.
The game broadcast time is 7:00pm, with the drop of the puck expected about 7:20pm. Fans are invited to come early, and bring family, friends and their own chairs or blankets for seating.
Sunday's pregame is being billed as a "Family Tailgating Party," with Bubble Ball Races, Bean Bag Toss, Limbo, Life-Size Jenga and a Water Balloon Toss.
The main attraction, of course, is the Nashville Predators, who have posted two victories against the Pittsburgh Penguins to even the Stanley Cup Finals at two games apiece.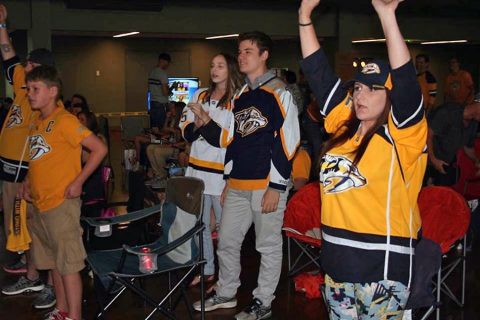 Clarksville's free Stanley Cup Finals viewing parties have been a big success, and Monday's debut at the Wilma Rudolph Events Center followed parties Wednesday and Saturday on Strawberry Alley near City Hall.
Hundreds of Clarksville hockey fans are enjoying the chance to gather in a City-sponsored, safe and family-friendly atmosphere and cheer on the Predators' quest for a championship season.
The Clarksville Parks & Recreation Department and CDE Lightband will stream Games 5 and 6 of the NHL Stanley Cup Finals to a huge screen inside the events center. Weather permitting, the big doors will be open to provide a semi-outdoor experience for the party.
There will be Predators giveaways, and Aaron's Furniture will be providing extra 60-inch TVs, so screens will be placed amid the party zone in addition to the main 17-by-30 foot screen.
Sections
Events
Topics
Aaron's Furniture, CDE, CDE Lightband, City of Clarksville, Clarksville City Hall, Clarksville Mayor, Clarksville Parks & Recreation Department, Clarksville Parks and Recreation, Clarskville TN, Kim McMillan, Liberty Park, Nashville Predators, National Hockey League, NHL, Pittsburgh Penguins, Predators, Stanley Cup, Stanley Cup Finals, Strawberry Alley, Wilma Rudolph Event Center, Wilma Rudolph Events Center