Nashville, TN – The Nashville Zoo will officially celebrate the opening of its newest exhibit, Southern White Rhino, with an exhibit dedication ceremony on August 2nd, 2017.
The event will include remarks from Nashville Mayor Megan Barry, Nashville Zoo Board Chair Julie W. Walker, Grow Wild Campaign Chair Jennifer Frist and Nashville Zoo President Rick Schwartz.
The addition of Southern white rhinos marks the first rhinoceros species to be housed at Nashville Zoo. The four captive-born white rhinos came from a reserve in South Africa and are now roaming in the former elephant exhibit, African Savannah.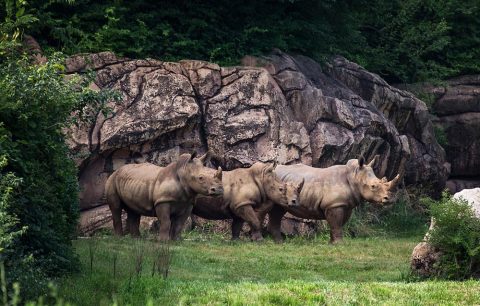 Nashville Zoo's African Savannah exhibit was originally funded by the Cal Turner Family Foundation.
The addition of Southern white rhinos and exhibit renovations were made possible by generous support and funding from Kathryn and David Brown, Patricia and Rodes Hart, the Andrea Waitt Carlton Family Foundation, Katie and Kevin Crumbo, Babs and Bill Freeman, Julie and George Stadler and a grant through the National Fish and Wildlife Foundation.
About Nashville Zoo
Nashville Zoo is a nonprofit organization and an accredited member of the Association of Zoos and Aquariums, assuring the highest standards of animal care and husbandry. The Zoo is actively engaged in conservation research, habitat protection, breeding programs and education initiatives around the globe as well as in our own backyard.
Celebrating 20 years at Grassmere, the Zoo attracts more than 890,000 visitors annually and is considered one of the top attractions in Nashville. Nashville Zoo is located at 3777 Nolensville Pike and is open every day except Thanksgiving, Christmas and New Year's Day.
For more information about Nashville Zoo, visit www.nashvillezoo.org