Fort Campbell, KY – Campbell Crossing, the on-post housing community on Fort Campbell, is gearing up for their upcoming Lemonade Day event, sponsored by USAA.
The event will take place on Saturday, August 26th, 2017, throughout the Campbell Crossing community, as well as at the PX for select residents.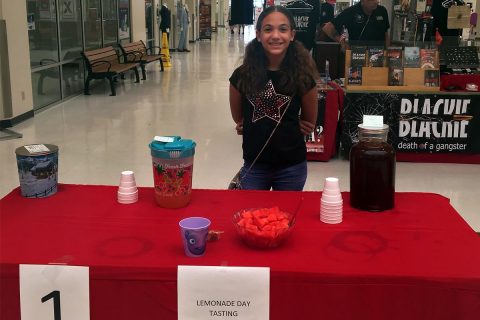 Lemonade Day is a free community-wide educational program that teaches youth the entrepreneurial skills necessary to start, own and operate their own business- a lemonade stand.
"This is Campbell Crossing's first year participating in the Military Lemonade Day program, and we are very excited to offer this program to our residents," said John Bredehoeft, project director for Campbell Crossing. "This entrepreneurial educational opportunity for children is important, and participants are encouraged to spend a little, save a little and give a little with the money they raise in lemonade sales that day."
Recently, eight teams from Campbell Crossing competed in a lemonade tasting contest for a chance to win a prime location at the PX to place their lemonade stand on Lemonade Day. Contestants were selected for their participation in the Lemonade Day build a stand and financial workshops hosted earlier this summer. There were VIP judges on hand, including leadership from the installation, on-post organizations and Campbell Crossing.
Three lucky winners were chosen including first place recipient, Mar'Dhaja Dickson; second place winners, sisters, Aghnis, Abigail, and Annah Dixon; and third place winner, Marquis Dickson.
"We had a blast with each of the contestants, tasting their lemonade recipes, and learning about what they plan to do with their earnings after Lemonade Day," said Bredehoeft. "I want to personally congratulate each of the winners, and we look forward to getting out in the community on August 26 for this exciting event!"
There is still time to register for Lemonade Day! Be sure to stop by the Campbell Crossing leasing office at 850 Georgia Avenue by Thursday, August 24th to sign up.
About Campbell Crossing
Campbell Crossing LLC, the partnership between developer Lendlease and the Department of the Army, is the premier housing community for the Soldiers and families of the 101st Airborne Division (Air Assault) and home to the first zero-energy homes project ever constructed on a military installation.
Lendlease took over operations of Fort Campbell's on-post housing in 2003 as part of the Military Housing Privatization Initiative (MHPI), a program aimed at improving the quality of life for Soldiers and their families. Since then, the Community has received numerous recognitions, including the Army's 2012 RCI Project of the Year, National Association of Home Builders (NAHB) National Green Building Award and the National Council for Public-Private Partnerships Innovation Award. Lendlease will own, manage, renovate, develop, and sustain the more than 4,450 homes of Campbell Crossing until 2053.
For more information go to www.campbellcrossingllc.com