Nashville, TN – Join Nashville Zoo on September 28th for their annual Sunset Safari 2017, presented by UBS. This year's event celebrates the Zoo's 20th anniversary at Grassmere and features some of Music City's most popular restaurants, live music, and special animal guests.
Guests can take an evening stroll through the lush pathways of the Zoo as they enjoy appetizers, entrees and sweets from some of Nashville's finest restaurants. Animal encounters and live entertainment will accompany the culinary delights along the trail.
The Zoo's animal keepers will host a silent auction featuring a 2-night stay in a local boutique hotel, a behind-the-scenes tour of Georgia Aquarium, unique paintings created by the Zoo's animals and more. The Patron Party features exclusive food and beverages and special photo opportunities with animals.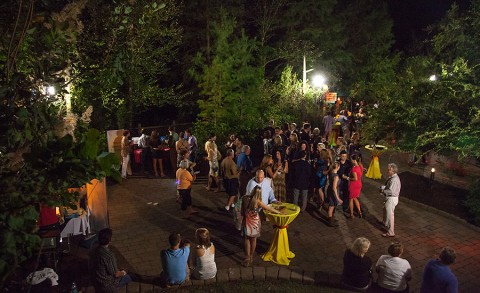 Sunset Safari kicks off at 6:30pm. To prepare for the event, the Zoo will be closing at 2:00pm on Thursday, September 28th. Tickets are $150.00 for the main event, $250.00 at the patron level and $1,000 at the benefactor level, which includes tickets for two.
A special junior level main event ticket is available for guests ages 21 – 29 for $75.00. Tickets can be purchased at www.nashville.org/sunset-safari.
The event is chaired by Barbara Hagood, Karly Hart, Maxine Majors and Whitney Musser and honorary chairs Connie Britton and Kimberly and Brad Paisley. Sunset Safari is presented by UBS and supported by BlueCross BlueShield of Tennessee, Humphreys & Partners Architects, and Service Systems Associates.
Additional sponsors include GenSpring Family Offices, Neely Coble Company, Sunrise Contracting, Allen Printing, Benefit Communications Inc., Blue Chair Bay Rum, Brand Imaging Group, Clint Newman DDS, Coca-Cola, Diversified Trust, Frugal MacDoogal, M&M Event Rentals, Nashville Convention & Visitors Corp,and Pinnacle Bank.
Sunset Safari food and beverage participants include Amerigo Italian Restaurant, Ben & Jerry's, Blue Chair Bay Rum, Chago's Cantina, Chauhan Ale & Masala House, Dick's Last Resort, Edleys Bar-B-Que, Granite City Food and Brewery, I love Juice Bar, Jimmy Buffett's Margaritaville, Kayne Prime, Mission BBQ, Moto, Nashville Farmers' Market, Nashville Sweets, Noshville, Nucci's Gelato, Olive and Sinclair, Padrino's Pops, Pauls' Chocolate, Saint Anejo, Sambuca, Silo, Table 3 Restaurant & Market, TailGate Beer, Tánsu?, Tavern, Tempered Cafe and Chocolate, The Bridge Lounge at Renaissance Nashville Hotel, The Mockingbird, Tin Roof, Virago, Vui's Kitchen, Whiskey Kitchen and Wildhorse Saloon.
About Nashville Zoo
Nashville Zoo is accredited by the prestigious Association of Zoos and Aquariums, assuring the highest standards of animal care and husbandry. Attracting more than 800,000 visitors annually, the Zoo is considered one of the top things to do in Nashville. The Zoo is a non-profit organization located at 3777 Nolensville Pike and is open every day except Thanksgiving, Christmas and New Year's Day.
The mission of Nashville Zoo is to inspire a culture of understanding and discovery of our natural world through conservation, innovation and leadership.
For more information about Nashville Zoo, call 615-833-1534 or visit www.nashvillezoo.org