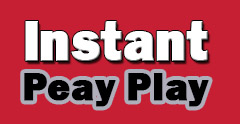 Clarksville, TN – Despite coming into the season with the longest losing streak in the country, Austin Peay State University's football team gave notice in its season opener at Cincinnati to both its future opponents and Govs fans that they aren't going to be an easy mark in 2017.
A 34.5-point underdog coming into the matchup versus the NCAA Football Bowl Subdivision Bearcats, the Govs – a NCAA Football Championship Subdivision program – held Cincinnati to less than 250 total offense yards and trailed by only six points with less than three minutes left in the game before falling 26-14 in a contest closer than the final margin.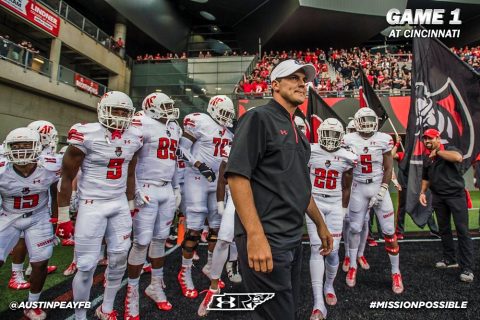 In fact, despite never leading in the contest the Govs were impressive right from the start on the defensive side of the ball, holding Cincinnati to just 16 yards of offense in the first quarter and 107 for the first half.
The Govs defense forced the Bearcats to punt on their first three possessions before seeing Cincinnati final getting into the end zone 19:06 into the game.
And while the Bearcats did find the end zone four times in the game, they had to work hard for each score, with the Govs not allowing Cincinnati any points on drives that started outside of their own 40-yard line (eight possessions).
Turn back a year and you have a Govs team that averaged giving up 47 points a game and over 506 yards per contest.
Offensively, the Govs dominated the time of possession by holding the ball for over 15 minutes more than the Bearcats (37:41 to 22:19), while outgaining them by 65 yards (313-248) and running 22 more plays from scrimmage (79-57).
But a couple of turnovers and missed opportunities inside the Cincinnati 10-yard line limited the Govs to their 14 points.
Those are correctible mistakes with a young and talented offensive unit that saw five players get their first career starts.
Still the Govs got solid efforts from their quarterback tandem of JaVaughn Craig and Jeremiah Oatsvall, who both showed they are threats through the air and on the ground, while nine different APSU running back carried the ball for 224 net yards and giving the Govs coaching staff a ton of different options in the future.
The Govs special teams were also solid with seven punts overall that averaged 41.1 yards per attempt, including four that came from APSU 13-yard line or closer and an average kickoff return of 19.3 yards in three chances.
Next up for the Govs will be a road trip to Miami University — another FBS program — who lost in its season opener at Marshall for the Redhawks home opener.