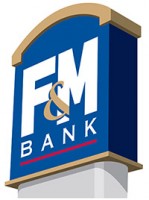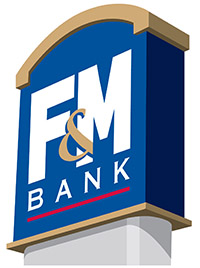 Clarksville, TN – During a 12-month period when Montgomery County's total bank deposits jumped by $175.8 million, F&M Bank remained in the top position among FDIC-insured banks with a 19.01% market share. It is the 14th consecutive year that F&M has maintained its market-leading ranking.
The fact that seven of the 11 Montgomery County banks have 10% or more of deposit market share underscores the extraordinary competitiveness within the market.
The updated market share reports – recently posted on the FDIC website – are based on federally insured deposits of banks and thrifts through June 30th, 2017.
Founded in Bumpus Mills in 1906, F&M Bank also retained its number one market share position in Stewart County with 49.72% of deposits. In Robertson County, F&M is in second position with 16.6% market share, behind The Farmer's Bank's 25.6%.
"Every day brings new competition for community banks," commented Sammy Stuard, F&M Bank chairman, president and CEO. "F&M is fortunate to have banking offices positioned throughout the economically vibrant Middle Tennessee region. I am proud that F&M Bank – along with several other strong community banks – are more than holding our own when it comes to winning and keeping relationships with customers."
Stuard continued, "Consumers, home buyers and business owners have literally hundreds of financial service choices. Our F&M employees are diligent in sharing their banking knowledge, experience and personal commitment in each customer relationship, which is ultimately why our bank is among those who successfully compete in crowded markets."
The following are June 30th, 2017, FDIC deposit market share highlights from counties where F&M Bank has at least one office:
Montgomery County:
Total county deposits grew almost $176 million, which more than doubled the previous 12 month's growth ($81 million) to reach combined county-wide bank deposits of $2.52 billion.
Other Montgomery County banks with greater than 10% of market share include: First Advantage Bank with $342.5 million (13.62%), Planters Bank with $300.2 million (11.94%), Bank of America with $285.4 million (11.35%), Legends Bank with $285.3 million (11.34%), U.S. Bank with $269.0 million (10.69%) and Regions Bank with $255.7 million (10.16%).
Stewart County:
F&M Bank's deposits of $81.3 million are almost half of county-wide deposits of $163.4 million.
Other Stewart County banks are: Regions Bank with $63.1 million (38.6%) and Legends Bank with $19.1 million (11.67%).
Robertson County:
Total county bank deposits are $862.0 million, a robust uptick of $43.1 million over the previous year. F&M increased to $143.1 million in county deposits.
Other Robertson County banks with double-digit market share include: The Farmer's Bank with $220.7 million (25.6%), Regions Bank with $126.0 million (14.62%) and Reliant Bank with $99.1 million (11.5%).
F&M Bank also has banking offices in Cookeville, Hendersonville, Lebanon, Murfreesboro, Mt. Juliet, and White House, which collectively had net deposit increases of $14.2 million over the past 12 months.
F&M Bank has 15 full-service banking offices in seven Middle Tennessee counties. As of June 30th, F&M reported $883.5 million in deposits, ranking 16th among all Tennessee-headquartered banks. F&M reported assets of $997.0 million.
In addition to its full-service banking offices, F&M operates mortgage-only offices in Davidson (Green Hills) and Williamson (Brentwood) counties.
For further information, contact Fred Landiss, Sr. Vice President of Marketing at or 931.553.2029.
Sections
Business
Topics
Bank of America, Brentwood TN, Bumpus Mills TN, Clarksville TN, cookeville TN, Davidson County, F&M Bank, FDIC, First Advantage Bank, Fred Landiss Sr., Green Hills TN, Hendersonville TN, Lebanon TN, Legends Bank, Middle Tennessee, Montgomery County, Mt. Juliet TN, Murfreesboro TN, Planters Bank, Regions Bank, Reliant Bank, Robertson County, Sammy Stuard, Stewart County, The Farmer's Bank, U.S. Bank, White House TN, Williamson County