APSU Sports Information

Evansville, IL – For first-year head coach Matt Figger, Tuesday ticked off another milestone in his inaugural run as Austin Peay State University head men's basketball coach—first turn at Ohio Valley Conference Media Days at the newly-completed Evansville DoubleTree, a stone's throw from the Ford Center—site of this season's Ohio Valley Conference Basketball Tournaments.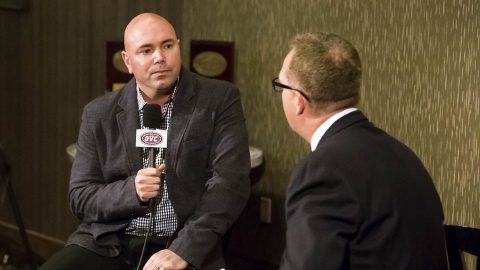 From pressing the flesh to introducing himself to the various members of the media in attendance, Figger represented himself as a veteran of the process rather than a first-time head coach still acclimating himself to the league and his position.
Blessed with a naturally gregarious demeanor, Figger welcomed all comers to at the one-on-one sessions and was among the highlights of the newly-added live sessions via the OVC Digital Network, where he chatted with Ray Giacoletti.
"I'm excited for the season to kick off," Figger said. "It was great to come up to Evansville and see what they're doing for the tournament. It's a great basketball community that's committed to making the OVC Tournament a classy event and they're putting their whole city on alert to make it as great a championship atmosphere as you can possibly make it."
For a full timeline and highlights of the event, check out @AustinPeayMBB on Twitter.
With a completely overhauled staff and a largely retooled roster, Figger will deploy plenty of new weapons when the Govs hit the hardwood for the first time in exhibition action, November 4th, in the Dunn Center. The regular season slate begins in Nashville against Vanderbilt, November 10th, before the home opener against Oakland City, November 16th.
Season tickets are now on sale for the 2017-18 season. Reserve your seats for all 32 home contests (17 for the men's squad) by calling 931.221.PEAY (7329) or email .