APSU Sports Information

Clarksville, TN – Austin Peay State University men's basketball is someplace it hasn't been since the 2010-11 season.
3-0 to start Ohio Valley Conference play.
Behind a hot shooting night from outside and its typically stingy defense, the Govs toppled UT Martin, 75-69, before a national audience on CBS Sports Network to remain unbeaten in the league.
The three reigned supreme to start the game, with junior Chris Porter-Bunton opening the contest with two three-pointers and junior Zach Glotta hopping off the pine with one of his own.
As the half progressed, a running theme emerged; the Govs would look ready to break the game open before a couple of quick Skyhawk baskets would tighten the score.
That trend ended with a 10-4 APSU run over the final 4:46 of the half, with five points from freshman Terry Taylor, an old-fashioned three-point play for Porter-Bunton and a transition layup from junior Steve Harris fashioning together a 36-25 APSU lead at the break.
Although the Govs would maintain a double-digit lead for much of the second half, a resilient Skyhawk side didn't go away quietly. After a three from freshman Dayton Gumm put the Govs up 13 with 9:21 remaining, a 15-2 Skyhawk run tied the game at 62 with less than five minutes to go.
UT Martin ended the game hitting five of its last seven attempts, including its last three from the floor. But the Skyhawks couldn't overcome the late-game heroics of Porter-Bunton, who scored seven of his career-high 16 points over the final 3:22 of regulation, keying a 6-0 run by himself to take the game from one possession to a 70-62 Austin Peay lead; the Skyhawks would get no closer than five points the rest of the way.
The Difference
In toppling the Skyhawks, the Govs displayed some keen ball movement. Austin Peay's 19 assists were the Govs second-most this season, behind only the Dunn Center-record 31 against Oakland City, November 16th, and most against a Division I foe since February 18th, 2017 against SIU Edwardsville.
Senior Tre' Ivory finished with six helpers, his seventh game this season with five or more assists, while Porter-Bunton's seven dimes represented a career-high.
Notably
For the first time under head coach Matt Figger, the Govs are above .500 on the season at 8-7.
Taylor reached double figures in scoring for the seventh consecutive game; he's averaging 18.1 ppg during that stretch.
After being outrebounded by an average of 14.5 rpg in two meetings with the Skyhawks last season, the Govs owned a plus-six (38-32) edge in this one, and are outrebounding their last five opponents by an average of 8.2 rebounds per game.
Senior Averyl Ugba recorded his third straight double-double and fourth as a Governor with 13 points and 10 boards. In doing so, he became the first Gov since Kenny Jones to register a double-double in three straight games; Jones did so November 18th-20th, 2016, to earn All-Tournament honors at the Miami Redhawk Invitational.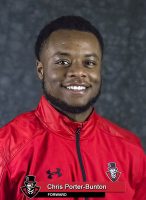 Austin Peay made a season-best 11 three-pointers, hitting 44.0 percent (11-of-25) beyond the arc; that percentage is the Governors best since December 19th against Troy.

The victory is Austin Peay's first against UT Martin during the regular season since 2014.

The night belonged to Porter-Bunton; in addition to leading the Govs in scoring for the first time in his Austin Peay career, the Bowling Green native racked up a career-best seven assists and tied his career-high with three three-pointers.

He reached double-figures in scoring in back-to-back games for the first time since January 28th—February 1st, 2017 (vs. Southeast Missouri and Eastern Kentucky).

For the ninth straight games, the Govs posted double-digits in offensive boards, finishing with 13. It marks the longest stretch since a nine-game streak during the 2011-12 season (December 17th—January 21st); the Govs are averaging 13.8 offensive grabs per game during the streak.

The Govs won despite a UT Martin advantage on points in the paint (31-25), Austin Peay's first victory this season when being outscored on the interior. It also served as Austin Peay's first victory in 2017-18 when being outscored in bench points; UT Martin outscored the Governors reserves 28-17.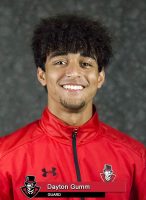 Gumm tied his career-high with three three-pointers.
The Govs registered 11 fast-break points, their first doubled-digit effort in transition since December 2nd against Alabama A&M.
Now 8-2 at home this season, the win gives Austin Peay its best 10-game start in the Dunn Center since the 2009-10 campaign.
Although Austin Peay committed a season-low 13 fouls, UT Martin was a perfect 14-of-14 at the charity stripe.
Coaching Quotables with Head Coach Matt Figger
Overall Thoughts
"I was really proud of how our guys played in the first half; they were as sharp and as crisp as we could possibly be. In the second half, being an immature basketball team, we played the score and not how we're supposed to play and put it on cruise control a little bit. You've got to give UT Martin a lot of credit; they've played in back-to-back conference title games, and there's no quit in teams that have played in championship games."

On late-game play


"We made some big plays right at the under-four media. Porter-Bunton's three was big, Dayton's three was big, Porter-Bunton's putback for a three-point play was big; he was really good for us at a lot of things tonight."

On Porter-Bunton's play
"He was just terrific for us. From toughness, passing the ball… you know, our team is young still because I don't know everybody's strengths. I still don't know what everybody is great at. I discovered some things about him. I truly think he's our best passer, and if I can get him a shot or two at the top of the key and see it go in, I think he's going to have a good night and I've got to do a better job of getting him a shot there."
Next Up for APSU Men's Basketball

A season-long six-game homestand comes to a close, Saturday, January 6th as Austin Peay hosts Southeast Missouri and OVC-leading scorer Denzel Mahoney. Tipoff is set for 7:00pm in the Dunn Center.
Sections
Sports
Topics
APSU, APSU Athletics, APSU Basketball, APSU Dunn Center, APSU Men's Basketball, APSU Sports, Austin Peay State University, Averyl Ugba, CBS Sports Network, Chris Porter-Bunton, Clarksville TN, Dayton Gumm, Denzel Mahoney, Eastern Kentucky, Governors, Govs, Kenny Jones, Matt Figger, Oakland City, Ohio Valley Conference, OVC, SIU Edwardsville, Skyhawks, Southeast Missouri, Steve Harris, Terry Taylor, UT-Martin, Zach Glotta