Award-winning venue to open season May 26th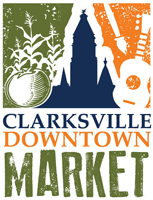 Clarksville, TN – The Clarksville Downtown Market is accepting vendor applications for its 2018 season. Since opening in 2009, the Downtown Market each year has been voted the American Farmland Trust's "People's Choice" winner as the best farmers' market in Tennessee.
The 2018 market season will be 8:00am to 1:00pm Saturdays from May 26th to October 13th in downtown Clarksville on Public Square.
The fee for a full-time vendor, selling at all 20 market days, is $225.00. The fee for part-time vendors, selling at 10 market days, is $175.00. Fill-in vendors pay $25.00 per market day. All vendor spaces include one white 10-by-10 feet tent, one table, one chair and access to electricity.
Vendors selling local produce, dairy, honey, flowers, cheeses, meats, food products, baked goods/breads, and artisan items are strongly encouraged to apply, but all applicants will be considered. At least 75 percent of a vendor's items must be handmade, homegrown or gathered by the seller or family member.
Interested vendors can apply online at clarksvilledowntownmarket.com. All vendors are required to submit photos of their products, and produce vendors must complete a farm inspection conducted by our Market Manager. Applications must be submitted by March 16th to be considered.
Live music will continue to be a part of the Market atmosphere. Artists interested in performing during one of our market days should apply online at clarksvilledowntownmarket.com.
Sponsorship of the Clarksville Downtown Market brings economic, community and business value to organizations. Several sponsorship levels available, so contact the Market Manager at to find out more.
For complete vendor rules and guidelines please contact Clarksville Parks and Recreation at 931.645.7476 or visit www.clarksvilledowntownmarket.com
About The Clarksville Downtown Market
The Clarksville Downtown Market is a weekly open-air market featuring local farmers and artisans who offer locally-grown fresh produce, food items, and handcrafted products. The Market strives to provide an opportunity for local customers to connect with local businesses, while enhancing quality of life in our community.
Enjoy live music, meet our Market mascot, "Corny the Cob," and experience special events on select market days.
Sections
News
Topics
Clarksville Downtown Market, Clarksville Parks & Recreation Department, Clarksville Parks and Recreation, Clarksville TN, Public Square, Tennessee, Vendors