Nashville, TN – As technology continues to progress, the disparity of women in science, technology, engineering, and math (STEM) careers grows ever more apparent. According to a recent poll conducted by Pew Research Center, the percentage of female representation in this field has actually decreased – dropping from 32% in 1990 to 25% today. More than ever, young women need encouragement and support to begin their journey into these competitive fields.
That's where the Tennessee Women in Science, Technology, Engineering, and Research (T.W.I.S.T.E.R.) Conference comes into play.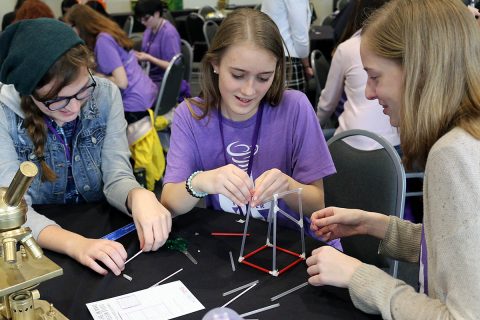 Now in its 16th year, Adventure Science Center's (ASC) one-day T.W.I.S.T.E.R Conference will show high school girls why "There's No Place Like STEM" on Saturday, February 17th.
Through hands-on activities and presentations led by notable female STEM leaders, participants are challenged to explore everything from space exploration and STEM education with Janet Ivey of Emmy-winning Janet's Planet to meteorology with Fox 17's Chief Meteorologist, Katy Morgan, as they navigate the exciting "yellow brick road" of career opportunities.
"T.W.I.S.T.E.R. allows girls to not only learn more about STEM careers, but also see themselves succeeding in them," said Dr. Tiffany Farmer, ASC's Director of Education & Community Engagement, "It's a safe place where they can explore, connect, and be inspired to take those first steps into their bright futures."
Through four 55-minute sessions covering a wide range of STEM career paths, T.W.I.S.T.E.R. participants gain insights into the daily lives of women working in STEM careers, learn about the struggles and roadblocks these women have overcome, and enjoy the opportunity to ask questions and get answers.

T.W.I.S.T.E.R. is scheduled from 8:00am to 3:30pm. For a small registration fee of $10.00, girls will gain access to the tools and confidence they need to follow their own path to the STEM career of a lifetime.Additionally, twograduating seniors will be selected through a competitive application process to receive a$5,000 or $2,500 college scholarship, thanks to to Women in Technology of Tennessee (WiTT) and Asurion.
Applications must be submitted by Saturday, February 3rd. Registration and scholarship information is available at www.AdventureSci.org/TWISTER.
The Presenting Sponsors for the 16th Annual T.W.I.S.T.E.R. Conference for High School Girls are Asurion, Google Fiber, Jackson National Life Insurance Company, and Women in Technology of Tennessee (WiTT). Information subject to change.
About T.W.I.S.T.E.R.
T.W.I.S.T.E.R. aims to inform high school aged young women about possible science, technology, engineering and math (STEM) career paths, by providing opportunities for participants to connect with positive female role models working in STEM fields and to engage in hands-on, real-life STEM activities. Since 2003, over 1,300 students have attended T.W.I.S.T.E.R. and over 300 women have volunteered as presenters.
About Adventure Science Center
For more than 70 years, Adventure Science Center has been bringing science to life for students, teachers and families in Middle Tennessee and across the U.S. The Science Center offers engaging learning experiences and science fun through hands-on, interactive exhibits; innovative programs; and fulldome productions in state-of-the-art Sudekum Planetarium. Adventure Science Center strives to open every mind to the wonders of science and technology, fostering a better understanding of ourselves and the world around us.
Adventure Science Center is located at 800 Fort Negley Bouldvard in Nashville.
For more information about the event, visit www.AdventureSci.org/TWISTER or call Alexis McCoy, Director of Marketing and Communications, at 615.669.5094