Written by Kim Robertson
Marketing Coordinator at Workforce Essentials
Clarksville, TN – Farmers Insurance Marcalee Baxter, Greer Carr Insurance Agency and her staff have collected over 250 pieces of dress clothing for the Suits for Soldiers program.
They collected and donated the clothes and other accessories to Eric Horton, Fort Campbell Soldier Transition Program (FCSTP) Coordinator and Dale Peters, FCSTP Assistant Coordinator with the American Job Center in Clarksville on January 24th, 2018.
Eric reached out to Marcalee who had collected items for veterans returning to the workforce in the past.
Eric stated, "As new veterans transition out of the military into the civilian workforce, we have found that there was a huge demand for soldiers needing professional business attire, to include for the interviewing process."
The American Job Center (AJC) and Workforce Essentials would like to thank Farmers Insurance for the generous collection of donations to keep our Heroes dressed for success!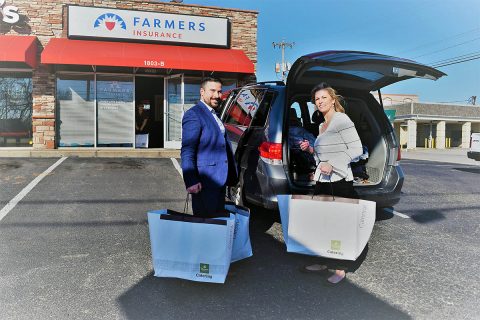 If anyone is interested in donating gently used dress clothes, they can drop off at the Farmers Insurance office located at 1803 B Madison Street, Clarksville, TN 37043 or by calling 931.436.9024.
For more information about the Fort Campbell Soldier Transition Program, please contact Eric or Dale at 931.905.3580 or 931.905.3542.
About Workforce Essentials
WorkForce Essentials, Inc. is a private, non-profit corporation providing innovative employment programs & training solutions to businesses and opportunities for job seekers through its centers in multiple Tennessee counties. Visit www.workforceessentials.com for more information.
Auxiliary aids and services are available upon request to individuals with disabilities. TDD# 1.800.848.0299