Written by Joe Pitts
Tennessee State Representative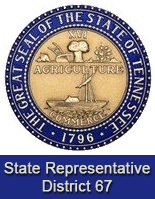 Nashville, TN – Bill filing deadline was on Thursday, February 1st, 2018. Below are measures introduced by Representative Joe Pitts. Over the next several weeks we will continue reporting on legislation filed and the status of the legislation.
Dual Enrollment Grants – House Bill 1495/Senate Bill 1676 (Sen. Mark Green (R-Clarksville) is scheduled for the House Education Administration & Planning sub-committee on February 6th. This bill will eliminate the one-year Tennessee residency requirement for a dual enrollment grant while still requiring a student be a Tennessee resident on the date of application for, or for renewal of, a dual enrollment grant.
The Dual Enrollment Grant program is a grant for study at an eligible postsecondary institution that is funded from net proceeds of the state lottery and awarded to students who are attending an eligible high school and who are also enrolled in college courses at eligible postsecondary institutions for which they will receive college credit.
"The idea is to help students who come to Tennessee as dependents of our military or a student moving into our State with their families during their junior or senior year in high school to obtain college credits through the dual enrollment program," Pitts stated.
Bounty Hunter Bill
House Bill 2007/Senate Bill 2676 (Sen. Paul Bailey (R-Sparta) filed this legislation after a tragic event in Clarksville where bounty hunters chased a vehicle through the streets of Clarksville at a very high rate of speed and a father of three was ultimately shot and killed. This victim was an innocent man, unnecessarily killed due to the gross negligence of persons acting as bounty hunters.
"Thank you to Montgomery County Sheriff John Fuson, Clarksville City Police Chief Al Ansley, representatives of the Tennessee Professional Bail Bondsman Association, Tennessee Sheriffs' Association, Tennessee Chief of Police Association and others for their major contributions to this legislation," Pitts said. "This will be a total rewrite of the current bounty hunters rules and regulations. I am hopeful this legislation, when passed, will reduce the likelihood of more tragedies like the incident in our community."
Some of the changes are as follows:
The clothing a bounty hunter will be allowed to wear must not bear any badges, shields, emblems, etc, that would indicate the bounty hunter is an employee, officer, or agent of any government agency.
They must be properly trained to use an animal in the course of their business in case of situations and environments the animal could become aggressive and methods by which the handler can control or alter these situations in order to best protect the handler and other people.
No bounty hunter can operate a motor vehicle to pursue another person in any manner that constitutes a violation of the rules of the road, including speeding, running traffic lights and/or stop signs, etc.
This is just a sampling of the new requirements for bounty hunters. If you would like to read the bill in its entirety, hold the control button and click the on link HB2007.
Visitors to the Hill
The Clarksville Association of Realtors came to Capitol Hill this week to meet with their legislators to discuss issues important to the community and their profession.
Board members of Cumberland Electric Municipal Co-op also visited for their day on the hill. They were led by the General Manager Chris Davis. "These visits are very helpful to members to keep us up to date on important matters that impact our community and state," stated Pitts.
In the Joint House Committees on Education, Ms. Faye Anderson, Partnership Specialist Tennessee and Mr. Ron Williams, Data Dissemination Specialist with the US Census Bureau made a presentation regarding the important of accurate numbers in regards to the US Census. They explained that over $675 billion in federals funds go to local, state, and tribal governments each year.
States and communities use census data to allocate funding for:
Neighborhood improvements
Infrastructure
Public Health
Education
Transportation, and more
It is essential that everyone completes the 2020 survey from the US census in order to ensure Montgomery County and the State of Tennessee receives the vital funding from the federal government in order to improve our communities.
In the next legislative update, we will share more of the legislation sponsored by Representative Pitts and other members of the Tennessee General Assembly, and provide weekly updates about the progress of these issues.
If you have questions about the above or other issues of concern, please call me at 615.741.2043, or email me at rep.joe.pitts@capitol.tn.gov