APSU Sports Information

Brentwood, TN – First-year head coach Matt Figger and the dynamic low-post duo of senior Averyl Ugba and freshman Terry Taylor are all new to the Ohio Valley Conference, but they have left an indelible impact on the league.
Tuesday, Figger was named OVC Coach of the Year, while Taylor earned Freshman of the Year honors. Taylor and Ugba, the graduate transfer from Grambling State, both were named First-Team All-OVC and to the All-Newcomer team via a vote of the league coaches and sports information directors.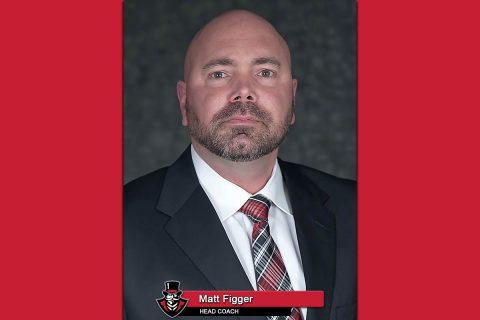 With a 17-13 overall mark in his first season, including a 12-6 record in league play which granted the Govs the No. 3 overall seed and a bye to the quarterfinals of this week's OVC Tournament, Figger becomes the fourth head coach in Austin Peay history to take OVC Coach of the Year honors, joining George Fisher (1966-67), Lake Kelly (1972-73) and five-time honoree Dave Loos, the only other APSU head coach to gain league Coach of the Year in his first season (1990-91).
The Jenkins, Kentucky native is the first OVC coach to earn Coach of the Year honors in his first season at the helm since Steve Prohm (Murray State, 2011-12).
Under Figger's tutelage, the Governors made one of the NCAA's largest defensive turnarounds this season; Austin Peay went from allowing 83.8 points per game (ppg) last season to 71.2 ppg in 2017-18, with the -12.6 ppg the second-largest drop in points per game in the nation behind only Central Michigan (-16.1 ppg). Some of those single-game milestones included holding Alabama A&M to 47 points on December 2nd—the first time APSU held an opponent below 50 points since Brescia in 2010 and the first Division I foe the Govs held below 50 since 2008 against Samford.
Overall, Figger's defensive unit held seven opponents below 60 points during the regular season, winning all seven contests; Austin Peay had held just seven opponents below 60 points in the previous four seasons combined.
The Govs under Figger have been a pesky defensive unit, winning the turnover margin by double-digits on three occasions and forcing an average of 23.6 turnovers per game from November 16th (Oakland City) to December 6th (Illinois). And when injuries and illness took a toll, Figger proved he could do more with less, winning late-January contests against Eastern Kentucky and Morehead State despite dressing just nine players.
The Governors posted a six-game win-loss improvement in Figger's first season, 45th-best in the NCAA.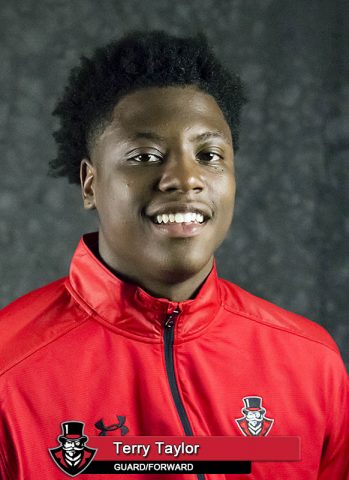 Taylor hit the ground running with a team-high 15 points against Vanderbilt in his collegiate debut and kept the pedal to the metal for the entirety of his first season in Clarksville, averaging 15.2 ppg and 7.9 rebounds per game (rpg) while leading the team not only in scoring but three-point shooting (44.4 percent) and minutes (30.9 per game).
The Bowling Green, Kentucky native has reached rarefied air in his first season. With 457 points during his freshman campaign, Taylor ranks third all-time in program history for single-season scoring by a freshman. And entering the tournament, he has secured 112 offensive rebounds, tied for 18th with Seton Hall's Angel Delgado (2014-15) for most offensive rebounds by a Division I freshman since the 2009-10 season.
With 10 double-doubles, Taylor is the only player in recorded OVC history to reach double-digit double-doubles during his freshman campaign, a mark which ties him for 55th nationally and ninth among freshmen, along with Eric Williams Jr. of Duquesne. Seven of those double-doubles came in OVC play, in which the Govs earned a 6-1 record.
Taylor secured five OVC Freshman of the Week honors, for the weeks of November 20th, December 4th, December 18th, January 8th and January 29th, one more than Ja Morant of Murray State. He is the first Gov with five or more Freshman of the Week honors to his credit since Chris Horton won nine in his 2012-13 campaign.
Pick a game this season and Taylor has been one of the central performers for Austin Peay.
Among his highlights:
29 points, 10 rebounds and the game-tying lay-up to force overtime against UNC Asheville.
Austin Peay's first double-double against a high-major opponent in nearly two years with 15 points and 11 boards at Oklahoma State.
First freshman since Nick Stapleton (1999) with a 30-point effort, hitting 12-of-17 from the floor en route to 30 at Evansville—on the very same court he will make his OVC Tournament debut, Thursday.
27 points—including 20 in the second half—in a comeback win against Troy.
Back-to-back double-doubles to open league play against SIU Edwardsville (19 points, 11 rebounds) and Eastern Illinois (12 points, 11 rebounds).
29 points, including 24 in the second half, and a career-high 14 rebounds against Southeast Missouri.
A career-high 11 offensive rebounds as part of a 16-point, 13-board performance at Tennessee State.
Closed the regular season with 24 points and a career-high five three-pointers against Murray State.
Taylor enters the OVC Tournament near the top of the OVC leaderboard in scoring (ninth, 15.2 ppg), rebounding (fifth, 7.9 rpg), field goal percentage (fourth, 54.9 percent), three-point field goal percentage (third, 44.4 percent), blocks (t-11th, 1.0 bpg), offensive rebounds per game (first, 3.7 orpg) and defensive rebounds per game (t-14th, 4.2 drpg). At the national level, Taylor ranks 10th in the NCAA in offensive rebounds per game, 54th in field goal percentage, 55th in double-doubles and 85th in total rebounds (238).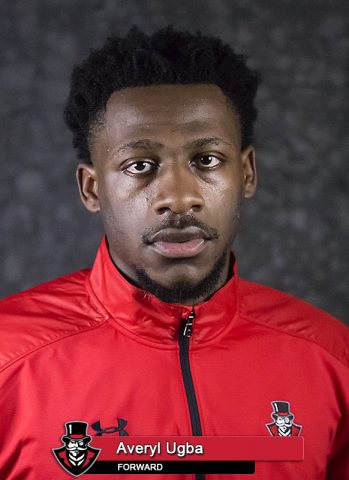 Ugba, Taylor's partner in crime on the low block, was equally adroit for the entirety of the campaign, giving the Govs a one-two punch in the post unmatched across the league. For the season, Ugba earned eight Newcomer of the Week honors across the campaign, the most since the league began handing out Newcomer honors during the 1985-86 season. For the season, the 6-7, 225-pound specimen averaged 15.0 ppg and a team-best 8.1 rpg on 54.3 percent shooting.
The Silver Spring, Maryland native broke out with 17 points and 11 boards in the home opener against Oakland City and sank the game-tying three-pointer with 1.1 seconds left to force overtime at Evansville, but the conference slate is where he truly shined brightest. He posted 17.1 ppg on 55.9 percent shooting and a league-high 9.1 rpg against OVC opponents, averaging 1.3 blocks as enforcer of the Austin Peay interior on defense.
In his first appearance against defending tournament champion Jacksonville State, Ugba was an absolute beast, going for 35 points and 12 rebounds and hitting 17 field goals—most in the league this season and second-highest tally in a single game in the NCAA behind only Lipscomb's Rob Marberry—to help the Govs secure their season's first road victory.
Ugba closed the season on a tear, averaging 17.8 ppg over the final 10 games of the campaign. That included a particularly-dominant three-game stretch against Morehead State, UT Martin and Southeast Missouri that saw him average 24.7 points on 61.9 percent (26-of-42) shooting and 13.3 rebounds.
Against the Eagles and Skyhawks, he became the first Gov since Horton to have back-to-back games with 15 or more points and rebounds, putting up an 18-15 game against Morehead State and a 28-17 performance against the Skyhawks, with the rebounding mark against UT Martin ranking second this season in single-game boards by an OVC player.
Ugba reached the highest highs for the Governors across a litany of categories this season, posting team single-game highs in scoring, field goals, rebounds, free-throw percentage (1.000, 8-of-8 at Tennessee Tech) and blocked shots (four against Eastern Kentucky). He ranks among the league leaders in scoring (10th, 15.0 ppg), rebounding (second, 8.1 rpg), field-goal percentage (fifth, 54.3 percent), blocks (seventh, 1.1 bpg), offensive rebounds per game (second, 2.9 orpg) and defensive rebounds per game (eighth, 5.1 drpg).
He also ranks highly in the NCAA in offensive rebounds per game (52nd), field goal percentage (59th), double-doubles (67th, nine), total rebounds (75th, 242) and rebounds per game (96th).
Ugba and Taylor are the first Austin Peay teammates to make first-team All-OVC in the same season since Josh Lewis and Adrian Henning in 2003-04. The last time two Governors made All-Newcomer in the same season were Horton and Travis Betran in 2012-13. They are the first set of Austin Peay teammates to ever earn both Newcomer and First-Team honors in the same season, although it marks the third consecutive season that teammates have earned Newcomer and First-Team honors.
Figger, Taylor, Ugba and the rest of the Govs will enter the 2018 OVC Tournament fray with a 8:30pm, Thursday quarterfinal contest at the Ford Center in Evansville against the victor of the Eastern Illinois-Tennessee State contest.