Clarksville, TN – After spending most of her life in Nashville, Madison Hobson decided to try a smaller, more intimate environment for her college career.
"I came to Austin Peay for the smaller campus community," she said. "I wanted to be able to stand out more than I would have at a bigger school. Also, it offered two big things that I wanted—affordability and a quality education."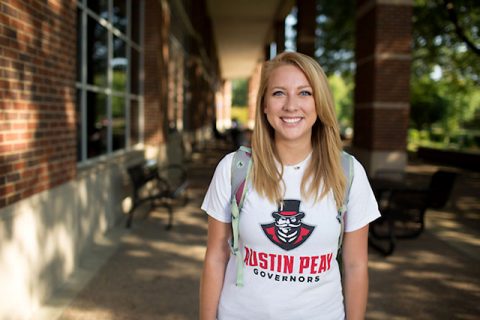 Hobson, now a senior English major, wanted to stand out, and that's what she's done at Austin Peay.
During her time on campus, she's served as president of the Alpha Delta Pi sorority and president of the APSU Admissions Office's Govs R.O.W. (Registration, Orientation and Welcome) Team.
Hobson is also a Govs Ambassador, helping prospective students gain an appreciation for campus, and she's spent the last year as a Student Life and Engagement intern.
"Being a Governor means so much more to me than a mascot; it means that I have the power to bring change and be change," she said.
After graduation, Madison will pursue a master's degree in Higher Education Administration at Auburn University. That institution recently awarded her a prestigious graduate assistantship for Auburn's inter-fraternity council. This assistantship will allow Hobson to expand upon the skills and experiences she received at Austin Peay.
"Austin Peay has given me all of the tools necessary to succeed in every aspect of my future by helping me network, and challenging me to be the best version of myself professionally and personally," she said. "Without Austin Peay, I don't believe I would have been motivated to be this better version of myself."