#3 Tennessee Lady Vols vs. #14 Liberty Lady Flames
Friday, March 16th, 2018 | 1:30pm CT
Knoxville, TN | Thompson-Boling Arena | TV: ESPN2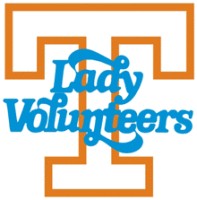 Knoxville, TN – As one of the top 16 overall seeds in the NCAA Division I Women's Basketball Championship field, the University of Tennessee Lady Vols earned the right to host first and second round games. This marks UT's initial time hosting women's tourney games since 2015.
No. 12/13 Tennessee (24-7), which earned the No. 3 seed in the Lexington Regional, will play host to No. 14 seed Liberty (24-9) on Friday, March 16th, at 1:30pm CT in Thompson-Boling Arena.
In Friday's opening game in Knoxville, No. 13/12 Oregon State (23-7), seeded sixth, will meet No. 11 seed Western Kentucky (24-8) in the other first round contest at noon.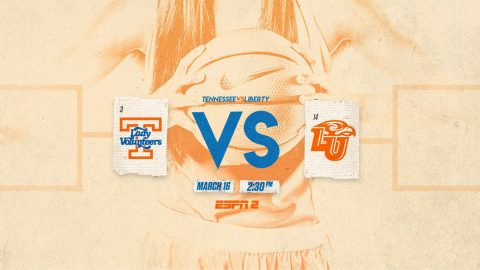 The winners of those games will face one another on Sunday (time to be determined) in Knoxville in the second round for the right to advance to the Sweet 16 in Lexington, KY.
No. 1 Louisville, No. 2 Baylor, No. 3 Tennessee and No. 4 Stanford are the top four seeds in the Lexington Regional.
The Lexington Regional contests are slated to be played on March 23rd and 25th in Rupp Arena.
Liberty is making its first appearance at Thompson-Boling Arena since facing Tennessee in the 1998 NCAA Tournament, while Oregon State last played here (vs. the Lady Vols) on December 28th, 2014, and Western Kentucky most recently played here (vs. UT) during the 1998 NCAA Tournament.
Broadcast Information
Brenda VanLengen (play-by-play) and Carol Ross (analyst) will describe the action for the UT-Liberty television broadcast on ESPN2.
Mickey Dearstone is handling the call for IMG College/Lady Vol Network radio/online broadcasts for the 19th season. A link to the live audio stream can be found on each game's Hoops Central page or the Lady Vol schedule on UTSports.com.
UT's NCAA Tourney History
The Lady Vols are making their 37th appearance in the NCAA Women's Basketball Championship, and UT is the only program to appear in all 37 tournaments.
Tennessee was an at-large qualifier for the tourney field, tying for fourth in the Southeastern Conference regular season and bowing out in the quarterfinal round of the league tourney to No. 7/7 South Carolina, the eventual champion.
As a No. 3 seed, UT is two spots up from last season's No. 5 position.
No. 3 NCAA women's seeds have an all-time record of 107-5 in first-round play.
The Lady Vols are 124-28 in NCAA Tournament play, and they rank first in games played (152) and victories (124) in NCAA tourney history.
Tennessee is second behind UConn in winning percentage at .816 in tourney play.
UT is 12-5 in NCAA play under Holly Warlick.
UT has advanced to the NCAA regional round on 34 occasions, posting a 28-6 record in the Sweet 16.
The only seasons UT did not make the regional level were 2009 and 2017. UT lost its opening round contest as a No. 5 seed to No. 12 Ball State in Bowling Green, KY, in 2009. No. 5 seed UT lost its second-round game at No. 4 seed Louisville in 2017.
UT has advanced to 18 NCAA Final Fours and won eight of them (1987, 1989, 1991, 1996, 1997, 1998, 2007, 2008), ranking second to UConn.
Tennessee has finished second in the nation five times and third on five more occasions.
UT has made the Elite Eight 28 times and in three of the past five seasons, posting an 18-10 record in that round.
UT has been to 34 Sweet 16s, standing 28-6 in that step of the NCAA ladder.
The Lady Vols have seen their season ended in the regional championship game in five of the past seven years (2011, 2012, 2013, 2015, 2016).
Tennessee's First/Opening Round opponents through the years have included: Jackson St. (1982), South Carolina St. (1983), Middle Tennessee State (1984), Virginia (1985), Iowa (1986), Tennessee Tech (1987), North Carolina A&T (1994), Florida A&M (1995), Radford (1996), Grambling (1997), Liberty (1998, 2018), Appalachian St. (1999), Furman (2000), Austin Peay (2001 & 2010), Georgia State (2002), Alabama State (2003), Colgate (2004), Western Carolina (2005), Army (2006), Drake (2007), Oral Roberts (2008 & 2013), Ball State (2009), Stetson (2011), UT Martin (2012), Northwestern State (2014), Boise State (2015), Green Bay (2016), Dayton (2017).
All told, UT has played 82 different opponents during all rounds of the NCAA tournament.
UT In The First & Second Rounds
Tennessee is making its 37th appearance in the NCAA First/Second Rounds, and it owns a 57-2 record during those games.
The Lady Vols are 29-1 all-time in the NCAA First Round and 28-1 in the NCAA Second Round.
The only blemishes are a first-round loss to Ball State, 71-55, in Bowling Green, KY, on March 22nd, 2009, and a second-round setback to Louisville, 75-64, in Louisville, KY on March 20th, 2017.
In NCAA First/Second Round play, Tennessee is 44-0 at home, 4-1 away and 9-1 at neutral sites.
The breakdown for that is 22-0 home/0-0 away/7-1 neutral for the first round and 22-0 home/4-1 away/2-0 neutral for the second round.
Under Holly Warlick, UT is 5-0 in NCAA First Round games (3-0 at home/2-0 at neutral sites).
She is 4-1 in NCAA Second Round tilts (3-0 at home/1-1 away).
56-Game Home NCAA Streak
UT is 56-0 all-time in home NCAA games, including 22-0 in the First Round, 22-0 in the Second Round, 6-0 in the Sweet 16 and 6-0 in the Elite Eight.
UConn is 44-3 all-time in NCAA Tournament games on its home floor (20-0, 1st Rd.; 20-3, 2nd Rd.; 2-0, Sweet 16; 2-0, Elite Eight). The Huskies have won 42-straight home tourney games.
In 2011, the win over Marquette during the NCAA Second Round was the 50th consecutive NCAA Tournament win for the Lady Vols in Knoxville, dating back to the start of the NCAA Tournament in 1982.
Lady Vol NCAA Experience
This is Holly Warlick's sixth NCAA Tournament as a head coach and her 33rd as a member of the Tennessee staff.
Warlick is 12-5 in NCAA Tournament games as a head coach, leading UT to three Elite Eights in her first four seasons (2013, 2015, 2016). She is 6-0 in games played in Knoxville (2013, 2014, 2015).
Only four of Tennessee's 10 players possess NCAA Tournament experience, but there are 30 combined games of tourney duty by that quartet.
Jaime Nared has played in 10 NCAA games, while Mercedes Russell, Kortney Dunbar and Meme Jackson have appeared in nine, six and five, respectively.
Nared and Russell have six starts apiece, with reach reporting to the jump circle in UT's last six tourney games over the past two seasons.
Mercedes Russell has UT's highest totals among active players for points and rebounds in an NCAA game, tallying a double-double of 25 points and 15 rebounds vs. Ohio State in 2016.
Russell has averaged double-doubles in NCAA play the past two seasons, carding pts./rebs. averages of 13.0 and 10.3 in 2016 and 12.5 and 11.5 in 2017. She has three career double-double games during the NCAA Tournament.
Russell is shooting .639 from the field (39-61) in nine career NCAA Tournament games.
Jaime Nared averaged 18.0 points and 9.0 rebounds per contest last season in two tourney games, hitting for 28 vs. Louisville and pulling down 11 boards.
Nared is averaging 9.7 ppg. and 6.8 rpg. for her career in NCAA contests while hitting .838 (31-37) from the free throw line.
UT Seeking 35th 25-Win Season!
Tennessee is seeking its 25th victory of the year, which would mark the 35th season the Lady Vols have reached that win total.
This would mark the fourth 25-win campaign under Holly Warlick, with the Lady Vols last achieving that total during a 30-6 season in 2014-15.
The Lady Vols hit the 20-win mark for the 42nd consecutive season on February 8th, 2018, winning at Arkansas, 90-85.
The Lady Vols won No. 20 last season in the NCAA First Round over Dayton on March 18th in Louisville, KY.
The Latest On Tennessee
Jaime Nared (17.1 ppg., 7.7 rpg.), a 6-foot-2 guard/forward, is a top-five finalist for the Cheryl Miller Award, while 6-6 center Mercedes Russell is a top-five finalist for the Lisa Leslie Award.
UT starts those two seniors as well as 5-11 junior guard Meme Jackson (8.2 ppg., 4.2 rpg.), 6-2 freshman forward Rennia Davis (12.0 ppg., 7.4 rpg.) and 6-0 freshman point guard Evina Westbrook (8.4 ppg., 2.8 rpg., 4.3 apg.).
UT's top reserve is
Anastasia Hayes
, a 5-7 freshman guard (9.3 ppg., 2.6 rpg., 3.4 apg.).
Tennessee enters the NCAA Tournament having won three of its last four games, including a win over #7 South Carolina.
Seniors Jaime Nared and Mercedes Russell have been quite durable, with Nared starting the last 87 games for UT and Russell getting the nod in 67 consecutive games entering the NCAA Tournament.
Jaime Nared ranks No. 5 in free throws made in a season (164), needing one to match Tamika Catchings (165, 1997-98) for fourth and two to match Candace Parker (166, 2006-07) and Chamique Holdsclaw (166, 1997-98) for second. Parker is No. 1 with 201 (2007-08).
Nared ranks No. 6 in career free throws made (424) and needs 15 makes to catch Semeka Randall in fifth (439).
Mercedes Russell (193) needs one block to tie Michelle Snow (194) at No. 5 in career blocks and seven to match Ashley Robinson (200) at No. 4.
Tennessee has been strong at home this season, winning 13 of 15 games and outscoring opponents, 79.5 to 59.6 in Knoxville.
UT has forced 17.9 turnovers per game and outrebounded foes, 46.3 to 36.4, at home.
Mercedes Russell's 10-for-10 effort at the free throw line vs. Auburn tied an SEC Tournament single-game record. It was the fourth-best all-time by a Lady Vol in any game. Entering the NCAA Tournament, she has hit her last 19 free throws in a row, dating back to the Alabama game.
Russell now stands alone with a record 15 double-doubles by a UT senior and is tied with Candace Parker for second-most ever by a Lady Vol behind only Chamique Holdsclaw (57). Russell had a UT junior-record 19 double-doubles a year ago.
The Lady Vols have won the rebounding battle in 25 of 31 games this season, including eight of the last nine games.
Mercedes Russell surpassed the 1,000-rebound mark vs. Georgia and the 1,500-point mark against Alabama, becoming only the sixth Lady Vol to reach 1,500 points and 1,000 rebounds. The others in that club are Chamique Holdsclaw, Glory Johnson, Bashaara Graves, Sheila Frost and Tamika Catchings.
UT has led 24 of 31 games this season at the half. UT trailed Mississippi State by 13, South Carolina (SEC) by 10, Missouri by six, Alabama by five, South Carolina (home) by five and Auburn (SEC Tourn.) by three, and was tied vs. Auburn (home).
UT's roster features seven players 6-2 or taller, tying the 2004-05 team as the second tallest in Lady Vol history behind the 2014-15 unit that boasted eight.
The Lady Vols have allowed eight opponents to score more than 72 points (Marquette – 99, Texas – 75, Vandy – 73, A&M – 79, Notre Dame – 84, Arkansas – 85, Missouri – 77, South Carolina – 73) and have allowed only 11 teams to shoot better than 41 percent from the field (Missouri, .556; Vanderbilt in Knoxville, .491; Texas A&M in Knoxville, .484; Notre Dame, .478; Arkansas, .477; Vanderbilt, .469; Marquette, .437; South Carolina (SEC), .464; Miss. State, .418; Alabama, .426, Auburn, .419).
When UT has more fouls than its opponent, the Lady Vols are 2-5, losing to Texas A&M, Notre Dame, LSU, Missouri and South Carolina (SEC Tourney), and beating Marquette in OT and winning by 14 at Kentucky.
Tennessee Notes vs. Liberty
The Lady Vols and Liberty will meet for just the second time, with UT holding a 1-0 advantage in the series.
The only other meeting occurred on March 14th, 1998, when No. 1 seed Tennessee defeated the Lady Flames, 102-58, en route to a perfect 39-0 NCAA Championship season.
Tennessee is 6-2 all-time vs. teams from the Big South Conference, with the last win coming vs. Winthrop, 81-48, in Knoxville on November 21st, 2014.
All-time vs. the Big South, UT is 3-2 vs. Winthrop and 1-0 vs. Liberty, Longwood and Radford.
Last Meeting Between UT & Liberty
All-five Tennessee starters scored in double figures, as the No. 1-ranked Lady Vols rolled past Liberty, 102-58, in the NCAA First Round in Knoxville on March 14th, 1998, to remain unbeaten.
The Lady Flames held the lead in the opening six minutes of play before the home team surged to a 19-point halftime lead and went on to hand Liberty its only loss of the season.
Chamique Holdsclaw (22 points/13 rebounds) and Tamika Catchings (17 points/13 rebounds) posted double-doubles to pace the UT attack.
UT had a 62-16 points-in-the-paint advantage and forced the Lady Flames into 27 turnovers.
The Lady Vols also drew 23 LU fouls, connecting on 19 of 28 free throw tries.
Twins Sharon (26) and Sarah Wilkerson (10) combined for 36 points to aid the Liberty cause, while Elena Kisseleva chipped in 10 as well.
Liberty Last Time Out (LU 60, UNCA 42)
No. 1 seed Liberty utilized rebounding and a stifling defense to overcome an early deficit and top No. 3 seed and two-time defending champion UNC Asheville, 60-42, in the 2018 Big South Women's Basketball Championship title game at the Vines Center in Lynchburg, VA, on Sunday.
Liberty (24-9) dominated the rebounding (44-30), points in the paint (28-12) and second-chance points (19-9) categories, led by tournament MVP KK Barbour (10 points, six rebounds), who scored in double figures for the third straight game on the weekend.
The Lady Flames' 17th Big South Championship title in 22 years but their first since 2015 also saw the home team limit Asheville (17-15) to 29.8 percent (14-of-47) shooting, as Liberty held its 17th straight opponent below the 60-point mark.
Point guards Ashtyn Baker (all 12 of her points came after halftime) and Nene Johnson (10 points, career-high eight rebounds, game-high three assists) also stepped up, with freshman Baker joining Barbour on the all-tournament team.
The Lady Flames posted their eighth consecutive victory overall and closed out their first unbeaten home season since 2007-08 with a 15-0 record at the Vines Center. Liberty got to cut down the nets on its home court for the first time since 2006 and the seventh time in program history.
About The Liberty Lady Flames
Head coach Carey Green is a native of Louisville, Tenn., and 1974 graduate of Friendsville (Tennessee) High School and earned his associate's degree from Roane State in 1976.
After graduating from Coastal Carolina in 1979, Green earned a master's in science education from Tennessee in 1981.
He was assistant M/W coach at Roane State (1979-81), head boys coach at Coalfield High School (1981-82), head girls coach at Rockwood High School (1982-84) and head men's and women's coach at Jackson State (Tenn.) Community College from 1984-87.
He served as assistant at Clemson from 1987-99 before joining Liberty as head coach in 1999.
The Lady Flames (24-9, 16-2 Big South) earned their 17th trip to the NCAA Division I Women's Basketball Championship in the last 22 years.
Liberty, which has made a quick turnaround from a 13-17 season in 2016-17, returns to the tournament for the first time since 2015.
Sheana Vega, one of two seniors on the roster, is the lone remaining Lady Flame from the 2015 NCAA Tournament team and the only current player who has ever been to the "Big Dance."
Liberty has won a season-high eight games in a row and is 15-1 in its last 16 outings. Defense has fueled the Lady Flames' success, as Liberty has held 17 straight opponents below the 60-point mark and is allowing just 53.7 ppg for the season.
Offensively, the Lady Flames' balanced attack is spearheaded by the trio of 6-1 sophomore post Keyen Green (13.0 ppg, 6.3 rpg), 6-1 junior post KK Barbour (9.8 ppg, 5.9 rpg) and 5-6 freshman point guard Ashtyn Baker (8.0 ppg, 3.0 apg). Green was named Big South Player of the Year, Baker was honored as Big South Freshman of the Year and Barbour was voted Big South Championship MVP.
Potential Second-Round Foes
The Tennessee-Liberty match-up is a repeat of the 1998 NCAA First Round in Knoxville, and the second round also features a potential for a repeat engagement.
Western Kentucky, the Lady Vols' Second-Round opponent in Knoxville back in 1998 is on hand again in 2018 as a No. 11 seed, this time facing #13/12-ranked Oregon State in the first round.
UT beat WKU in 1998, 82-62.
After entering as the No. 2 seed, WKU (24-8) won the C-USA Tournament title to make the field .
UT is 7-1 all-time vs. Western Kentucky.
No. 6 seed OSU (23-7), meanwhile, is making its fifth straight NCAA appearance, a school best.
The Beavers are 0-4 vs. UT, last facing the Lady Vols in Corvallis on December 19th, 2005 (UT, 53-50), and most recently visiting Knoxville on December 28th, 2014 (UT, 74-63).
UT has three players from Oregon on its roster, while OSU has three.
Tennessee Last Time Out (USC 73, UT 62)
No. 12 Tennessee erased a 16-point first-half deficit and closed within three in the third quarter but couldn't overcome No. 8 South Carolina, falling 73-62 in the quarterfinals of the SEC Tournament at Bridgestone Arena in Nashville on March 2nd.
Freshman Anastasia Hayes led Tennessee (24-7) in scoring, tying her career high of 17 points. Senior Jaime Nared posted a double-double for Tennessee with 15 points and 13 rebounds, playing her ninth 40-minute game of the season.
A'ja Wilson led South Carolina (24-6) with 24 points and 12 rebounds. Alexis Jennings also recorded a double-double for the Gamecocks, logging 19 points and 12 rebounds as USC snapped a three-game UT winning streak in the series.