"Planters Bank Presents…" Film Series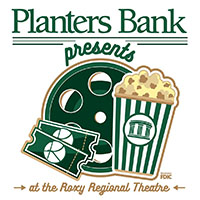 Clarksville, TN – The "Planters Bank Presents…" film series to show "The Land Before Time" this Sunday, March 18th, 2018 at the Roxy Regional Theatre at 2:00pm.
A young plant-eating dinosaur, Littlefoot, is orphaned after his mother perishes while protecting him from a vicious carnivore. With her last breath, she tells him how to get to the legendary Great Valley, where he will be reunited with others of his kind.
With his friend Cera, Littlefoot sets out for the fabled land, meeting a variety of new friends along the way; while also being tracked by the killer dinosaur that mortally wounded his mother.
Admission to each film in the "Planters Bank Presents…" series is $5.00 (cash or check only). Tickets are on sale now at the Roxy Regional Theatre box office. Any remaining tickets will be available at the door one hour prior to showtime.
Normal box office hours are 9:00am-2:00pm, Monday through Friday.
At the concession stand, enjoy a bag of popcorn and a bottled water for $5.00 (sold separately for $4.00 and $2.00, respectively) and assorted candy for $2.00.
This film series at the Roxy Regional Theatre is made possible by the generous support of Planters Bank and the Clarksville-Montgomery County Arts & Heritage Development Council.
The Roxy Regional Theatre is located at 100 Franklin Street in Clarksville, TN.