APSU Sports Information

Jacksonville, AL – Austin Peay State University women's tennis team narrowly fell to Jacksonville State in an Ohio Valley Conference match, 4-3, Saturday, at the JSU Tennis Courts.
The Govs (5-6, 2-1 OVC) had their four-match win streak snapped and their unbeaten start to OVC play halted by the Gamecocks (10-2, 3-1 OVC).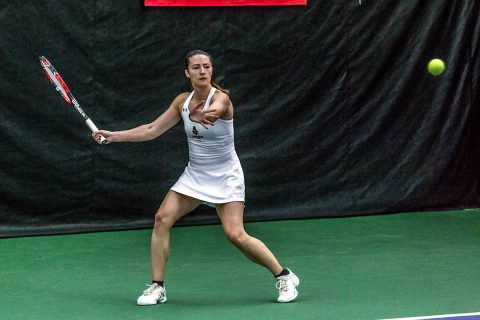 The match was filled with twists and turns, as the Govs first won at No. 2 and No. 3 doubles, with the usual lineups in doubles changed.
Lidia Yanes Garcia partnered with Brittney Covington to win at No. 2 doubles, while Claudia Yanes Garcia teamed with Ana Albertson at No. 3 doubles.
The Gamecocks took the lead back in singles with wins at No. 2 and No. 4 singles. Lidia continued her stellar season with another straight-set win over Genevie Ulanday at No. 1 singles (6-4, 6-3). Helena Kuppig gave the Govs the lead for the second time in the match with a win at No. 3 singles over Alessia Locati (6-3, 6-2).
Like in their previous match, the Govs needed to win one of two matches at No. 5 or No. 6 singles, but the Gamecocks provided two clutch performances to win.
The Govs return to action with a non-conference match, 2:30pm, Tuesday, at home against Saint Louis.
Box Score
Jacksonville State 4, Austin Peay 3
Doubles
1. Genevie Ulanday/Elena Tendero (JSU) def. Helena Kuppig/Fabienne Schmidt (APSU) 6-3
2. Lidia Yanes Garcia/Brittney Covington (APSU) def. Malin Buechner/Alba Conejero (JSU) 6-3
3. Claudia Yanes Garcia/Ana Albertson (APSU) def. Diana Monsalve/Marine Alberteau (JSU) 6-4
Singles
1. Lidia Yanes Garcia (APSU) def. Genevie Ulanday (JSU) 6-4, 6-3
2. Malin Buechner (JSU) def. Fabienne Schmidt (APSU) 6-1, 6-0
3. Helena Kuppig (APSU) def. Alessia Locati (JSU) 6-3, 6-2
4. Elena Tendero (JSU) def. Claudia Yanes Garcia (APSU) 6-1, 6-1
5. Diana Monsalve (JSU) def. Brittney Covington (APSU) 7-5, 6-0
6. Alba Conejero (JSU) def. Ana Albertson (APSU) 6-2, 6-3
Order of finish: Doubles (2, 1, 3); Singles (4, 2, 1, 3, 5, 6)