APSU Sports Information

Clarksville, TN – Austin Peay State University men's tennis team fought hard against a tough opponent, but ultimately fell to Saint Louis, 4-2, Tuesday, at the Governors Tennis Courts.
Instead of the doubles being played first, the singles went off first in the match.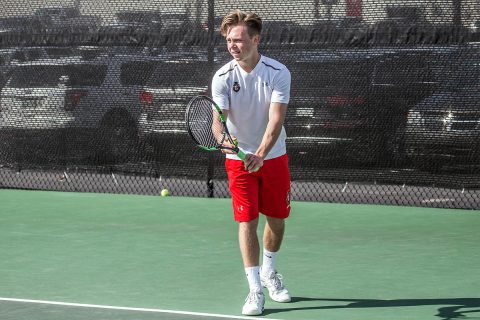 Things started promising for the Govs (1-16, 0-4 OVC), with Almantas Ozelis, Christian Edison, and Aleh Drobysh all winning the first set of their matches.
However, Ozelis's opponent battled back to win in three sets, but the Govs collected two points from Edison and Drobysh, who both won in straight sets.
The Billikens (8-7) responded with a win at No. 5 singles to knot the match up at two. Timo Kiesslich battled back to win the second set in his match at No. 4 singles, but lost a third set super-tiebreaker 10-6 to give the Billikens the lead.
Chad Woodham also won the second set in his match after losing the first, but unfortunately became the third Gov to lose a super-tiebreaker in the deciding set, as Saint Louis clinched the match, rendering the doubles portion of the match not necessary.
Austin Peay is off the rest of the week, as they return to action April 7th against Eastern Kentucky.
Box Score
Saint Louis 4, Austin Peay 2
Singles
1. David Ferragut (SLU) def. Almantas Ozelis (APSU) 4-6, 7-5, 1-0 (10-6)
2. Christian Edison (APSU) def. John Nogalski (SLU) 6-2, 6-4
3. Aleh Drobysh (APSU) def. Juan Calero (SLU) 6-2, 6-2
4. Oscar Pachon (SLU) def. Timo Kiesslich (APSU) 6-3, 5-7, 1-0 (10-6)
5. Justin Nogalski (SLU) def. Jacob Lorino (APSU) 6-3, 6-4
6. Kenji Yanaba (SLU) def. Chad Woodham (APSU) 6-4, 6-7 (3-7), 1-0 (10-4)