Clarksville, TN – Clarksville Academy recently held commencement exercises in the school's activity center for 56 graduating seniors, members of CA's Class of 2018.
After the opening procession, and welcoming remarks, Lakeisha Allyah Phillips, Senior Class President, delivered the invocation, followed by Salutatorian, Hannah Elizabeth Flowers' address to her fellow graduates.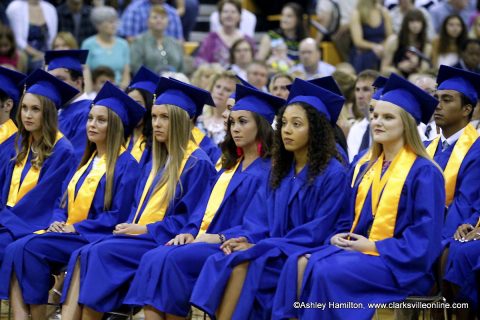 Student Council President, Justin Xue Gao then introduced this year's Commencement Speaker, Montgomery County Mayor Jim Durrett.
Mayor Durrett's address was followed by the Clarksville Academy Choir's presentation of "For Good", the Valedictory speech by Mallory Jade Saleh, and the presentation of diplomas.
"These students have done beautifully well, Clarksville Academy Head of School, Dr. Kay Drew said. "They have a combined $7.8 million in scholarships, which is the most any CA graduating class has ever received. This is also a well-traveled class, they love to travel, and have visited 17 different countries. They have such an appreciation for culture. I couldn't be more proud of them."
This is one of the school's largest graduating classes. Dr. Drew says that in two years, the class of 2020 is on track to graduate 83 students.
It was recently announced that Dr. Drew will be leaving with her husband, Brig. General Tom Drew, as he takes on his new assignment as Deputy Commanding General for U.S. Special Operations at Fort Bragg.
"Tonight is bitter-sweet," Dr. Drew said. "This school and its students are like my babies. I graduated from CA, a proud member of the Class of '76. I've been working here for 25 years, the last 15 of them as Head of School.
"I'm so proud of the progress we've made. I look forward to meeting the next new Head of School, and handing that torch off to them. And, you know how the military works, we do hope to come back to Clarksville."
Photo Gallery