Clarksville Association of Realtors®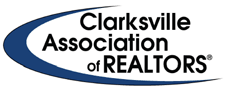 Clarksville, TN – The Clarksville Association of Realtors® (CAR) will host a public debate on Wednesday, July 11th which will include candidates from various Montgomery County races, including County Mayor, County Commission, County Trustee, and School Board.
The School Board debate will begin at 12:00pm, which will include candidates Carol Berry, Lamar Coker, and Loretta Morris. Montgomery County Trustee candidates Corinthia Elder and Kimberly Wiggins will debate at 1:00pm.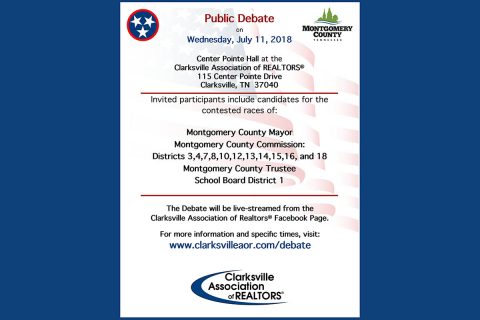 Candidates vying for the Montgomery County Commission (Districts 4, 7, and 8) will continue at 2:00pm, and will include candidates Lindsey Fain, Robert Lewis, and Ronald Sokol.
Martha Brockman, Lisa Prichard, David Harper and Jason Knight (Districts 10, 12, 15, and 18) will begin at 3:00pm, with Ed Baggett, Sean Morgan Rice, and Joe Smith (District 3) following at 4:00pm.
The District 14 debate will include Josh Beal and Jimmy Brown at 5:00pm, with District 16 candidates Loretta Bryant, Carmen Annette Gentry, and Justin Ross beginning at 6:00pm. County Mayor Jim Durrett will answer questions at 7:00pm.
The event will start at 12:00pm on July 12th, and will be live-streamed from the Clarksville Association of Realtors® Facebook page. The public is encouraged to attend and submit their own questions to the candidates on the CAR website.
To submit questions, or for more information on the 2018 CAR Public Debate, please visit www.Clarksvilleaor.com/debate, or www.Clarksvilleaor.com/2018-elections
About Clarksville Association of Realtors
The Clarksville Association of Realtors® has over 950 active REALTOR® members and 72 Affiliate Partners that work together to improve the public awareness of the value of Realtors to the community and to the benefits of their services. The Clarksville Association of Realtors® also serves to promote the success and future developments of its members in association with the Tennessee and National Associations of Realtors®.