Clarksville Riverfest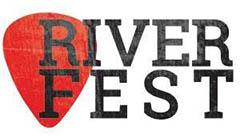 Clarksville, TN – Clarksville's Riverfest kicked off Saturday, September 8th with Rally on the Cumberland, the city's annual canoe and kayak race.
Fourteen boats began the race at the Montgomery County Conservation Club at 8:00am and paddled approximately 6 miles in length on the Cumberland River to McGregor Park.
Participants paddled the Cumberland River for prizes, bragging rights.
2018 Rally on the Cumberland Results
Beginner (Singles)
#
Name
Time
1st
Larson Wiggins
1:28:54
2nd
Natalie Rottarr
1:28:58
3rd
Jan Thurow
1:32:50
4th
Adolf Martin
1:33:18
5th
Debbie Abernathy
1:43:02
6th
Rhonda Shepard
1:48:16
Intermediate (Singles)
#
Name
Time
1st
Woody Hurd
1:19:10
2nd
Shane Morgan
1:28:22
3rd
Jennifer Peters
1:34:19
4th
Felicia Sanders
1:37:58
5th
George Peters IV
1:42:14
Intermediate (Doubles)
#
Name
Time
1st
Sam Jackson/Tyler Powell
1:25:44
Advanced (Singles)
#
Name
Time
1st
Matt Silvey
1:16:57
2nd
Lucas Chambers
1:26:21
About Clarksville Riverfest
Riverfest is Clarksville's longest running community festival, and brings more than 30,000 people to the banks of the Cumberland River in an arts and recreation celebration. This year, the Riverfest will be September 6th-8th, 2018. Music, art, family events, and more will fill Liberty Park on September 6th, and McGregor Park on September 7th-8th.
Admission and entertainment at the festival are free and open to the public thanks to our partners Miller Lite, Google, Lamar Advertising, Clarksville Living Magazine, Urgent Care, Queen City Disposal, Gateway Financial, Mary's Music, Hudson, and Sam's Club.
To stay up to date on Riverfest, visit the festival website, www.clarksvilleriverfest.com and follow "Clarksville Riverfest" on Facebook. The festival is brought to you by the City of Clarksville Parks and Recreation Department and Miller Lite.
For information call 931.645.7476 or visit www.cityofclarksville.com