Clarksville Police Department

Clarksville, TN – Clarksville Police Lt. Stephen Warren is saying goodbye to law enforcement after 35 years of law service. He spent 21 of those years with the Clarksville Police Department.
Lt. Warren's many years of service took him to several departments and positions. He started out his law enforcement career working for the University of Tennessee at Martin, changing jobs to take on a one man deep position as Chief of Police in Big Sandy, TN, moved on to be an Investigator with Benton County Sheriff's Office, then worked as an Investigator with Austin Peay State University, and for the last 21 years has been an officer with the Clarksville Police Department.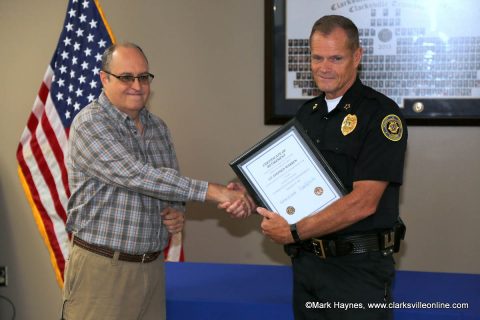 Clarksville Police Chief Al Ansley stated during the ceremony, "He has worked closely with me over the last few years and when I asked for something, he got it. He has also handled our grant reporting over the last few years in which we have received many federal grants. One of the biggest ones was New Providence. I appreciate his efforts over the years."
He was hired with CPD August 1st, 1997, and became a member of the Fatal Accident Crash Team September 1st, 1998. He was promoted to Sergeant, May 1st 2002 and attained his current rank of Lieutenant, February 16th, 2008. His final job assignment was in charge of Homeland Security for the Clarksville Police Department.
"I am grateful for the friends I've made here and hope to keep in touch with everyone," said Lt. Steve Warren. "I am extremely proud of the progress our department has made in the last 21 years and I hope it continues."
The room at Police Headquarters was filled with well-wishers as Lt. Warren started a new chapter in his life. For many retirement is a somber occasion, but Lt. Warren was his normal jovial, cracking jokes self. Lt. Warren's wit and humor as well as his professionalism will be missed by many. His official retirement date is September 14th, 2018.
"We are going to miss you. It has been a pleasure serving with you over these years. Congratulations on your retirement. We truly will miss you, miss you more than you know." stated Ansley.
Photo Gallery