APSU Sports Information

Knoxville, TN – Jacob Lorino, of Austin Peay State University (APSU) men's tennis team, kept his impressive showing up at the ITA Ohio Valley Regionals, Friday, October 12th, 2018.
After Lorino and partner Timo Kiesslich won their first round doubles match yesterday, Lorino defeated a familiar foe in Butler's Lope Adelakun in the consolation draw for singles.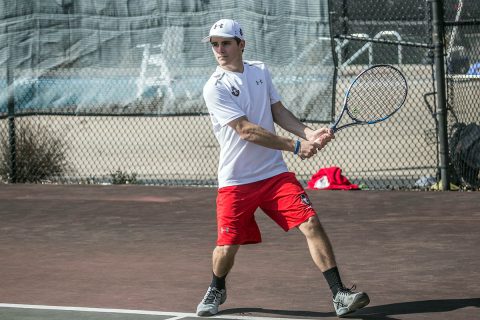 Lorino and Kiesslich defeated Adelakun and his partner yesterday, before Lorino bested Adelakun in straight sets, 6-2, 6-2.
The duo narrowly missed advancing to the Round of 16 for the main doubles draw. After winning in a tiebreaker yesterday, the team fell in a tiebreaker today. The pairing were the lone Govs to be in a main draw after the first day.
Lorino was also the lone Governor to keep his tournament alive and will play another singles match tomorrow morning.
Results
Doubles Main Draw
Second Round
Victor Chaw/Pablo Caffarena (Lipscomb) def. Jacob Lorino/Timo Kiesslich 8-7(4)
Singles Consolation Draw
First Round
Jacob Lorino (APSU) def. Lope Adelakun (BUT) 6-2, 6-2
Julian Saborio (Purdue) def. Oliver Andersson (APSU) 6-2, 6-3
Chris Edge (Middle Tennessee) def. Almantas Ozelis (APSU) 7-5, 7-6(4)
Nemanja Guzian (Ball State) def. Christian Edison (APSU) 6-1, 7-6(6)
Spencher Richey (Dayton) def. Timo Kiesslich (APSU) 6-1, 6-1
William Pekarsky (Indiana) def. Anton Damberg (APSU) 6-2, 6-3