APSU Sports Information
Clarksville, TN – Twenty-four Austin Peay State University (APSU) student-athletes and athletics staff participated in Winter Commencement ceremonies, Friday, at the Dunn Center.
The following student-athletes, athletics alumni and departmental employees were bachelor's degree candidates for December 2018 Commencement.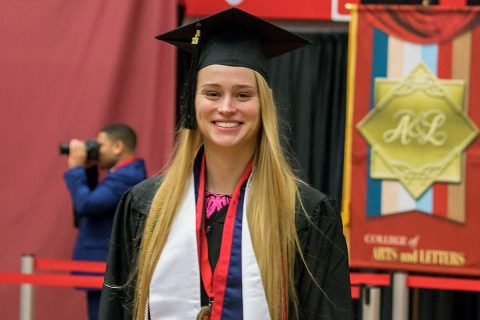 APSU Student Athletes and Staff
Savannah Amato, track and field
Matthew Biwott, men's cross country
Malik Davis, football
Byron Glass, football
Kadeem Goulbourne, football
Clinton Ham, men's basketball staff
Theron Hodges, football
Garrett Kueber, baseball
Hunter Lane, football
Austin Maloata, football
Macy Mayfield, dance
Charles Mosley, football
Ryan Rockensuess, football
Daryl Rollins-Davis, football
Gretchen Rosch, track and field
Gunnar Scholato, football
Ethan Self, football
Ashley Slay-Glotta, volleyball
Kristen Stucker, volleyball
Lindsey Todd, women's soccer
Lloyd Tubman, football
Averyl Ugba, men's basketball
Imani Willis, baseball
Caroline Wistrom, women's soccer
These athletes weren't just names on a roster or numbers on a field. They also represent…
Two Ohio Valley Conference Champions
Six OVC track and field medals
A two-time Academic All-American
The school indoor and outdoor pole vault record
Seven All-OVC performers
A semifinalist for the 2018 William V. Campbell Trophy, awarded annually to the nation's top football scholar-athlete
One Ohio Valley Conference Scholar-Athlete Award
An individual who racked up nearly 400 career tackles on the gridiron
The MVP of the 2018 John McClendon Classic during the 2018 CollegeInsider.com Tournament
A dual-major in biology and agriculture
Two NCAA Championship competitors
16 appearances on the OVC Commissioner's Honor Roll
Austin Peay volleyball's career blocks leader
Three OVC Academic Medals of Honor
One Student-Athlete Advisory Committee Executive Board member
The only AVCA National Player of the Week in volleyball program history
Five CoSIDA Academic All-District honors
The backbone of an offensive line that paved the way for a program-record 3,105 rushing yards in 2017
A three-time NCAA East Preliminary qualifier
A retired member of the United States Army
Three OVC All-Newcomer choices
The second-most career shutouts in Austin Peay soccer history
The only three-time OVC Setter of the Year in conference history
A pair of three-time All-OVC honorees
The 12th member of the Austin Peay volleyball's double-grand club (1,000 instances in two of either kills, digs or assists in a career), and only the fifth setter in program history to do it
And so much more that made Austin Peay a unique, wonderful place. Thank you for your contributions to the program and the university. We wish you well in the future and as always… LET'S GO PEAY!