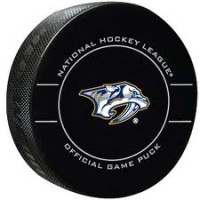 Nashville, TN – The Nashville Predators defeated the New Jersey Devils 2-1 behind the goaltending of Juuse Saros, and a nifty shootout goal from Ryan Johansen.
Nashville sweeps their three game homestand before hitting the road next week, and continues to get solid play from up and down the bench with key players on the injury list.
Frederick Gaudreau scored for the Predators at 18:43 of the first period, sweeping up a fresh rebound that beat New Jersey goalie Keith Kincaid, for the early 1-0 lead. Gaudreau netted the goal off of a Miikka Salomaki shot that bounced off the pads of Kincaid.
The line of Gaudreau, Salomak and Mattias Ekholm has been playing some quality minutes for Peter Laviolette's Predators and the goal was overdue from this line.
The second period saw a lot of back and forth and incredible goaltending from both goalies, but there was no scoring during the frame. Nashville put 28 shots on goal while the Devils put up 34 shots on the night.
Juuse Saros got the start for the Predators while Kincaid started in place of Cory Schneider, who was pulled during last night's game after giving up three goals in the first period of the Devils win last night.
The third period saw much of the same action with both teams putting pressure in the offensive zones. Nashville still held tight to their 1-0 lead until 18:29 of the period when Brian Boyle brought New Jersey even, netting a rebound the beat Saros on the high side and the score was tied 1-1, and that would be the end of regulation score.
In the overtime period, both teams had opportunities to end the game, but to no avail, so the contest went to a shootout.
Kyle Palmieri put the Devils on the board first, but his goal was quickly answered by Ryan Ellis for the Predators and the shootout was tied 1-1.
It wasn't until the seventh round of the shootout that Nashville finally broke through as Ryan Johansen made a sick goal over the shoulder of Kincaid, as the veteran nearly came to a complete stop and waited for Kincaid to make a move before he netted the shot.
Game over. Preds win, 2-1.
Nashville will hit the road to play Ottawa on Monday night, then the second game of a "back-to-back" series lands them in Chicago on Tuesday night.
The week ends with visits to Philadelphia and Boston before the Christmas break.
The Predators return home December 27th to host the Dallas Stars.