Clarksville Police Department

Clarksville, TN – The Clarksville Police Department reports that there were eleven vehicles stolen or broken into over the weekend from various locations around the City of Clarksville.
Each one had a common theme–keys were available for the thieves to use to steal the vehicles, unlocked or no signs of forced entry.
One man left his car running to warm up and five minutes later when he came outside the vehicle was gone.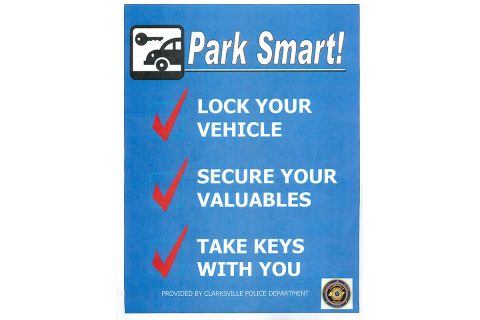 Another man went inside of an apartment to care of some laundry, and left the keys in an unlocked car. About 10 minutes later, he came out and the vehicle was gone.
The vehicle was recovered the next day, abandoned, unlocked with the keys inside.
In the case of another stolen vehicle, the man said his vehicle was locked, but he had a key fob hidden inside of the vehicle when it was stolen. The vehicle was located the next morning, abandoned.
The last of the stolen vehicles was taken from an apartment complex after a man visiting a friend left his keys inside of the car and when he came out the next morning, it was gone.
There was not a large dollar amount of property taken in the thefts, mainly documents, but one vehicle had a gun stolen which has not been recovered.
Additionally, there were six vehicle burglaries, in which five of the vehicles did not have any signs of forced entry or were left unlocked.
This is an ongoing problem which could easily be mitigated if the concepts of "Park Smart" were used:
Lock Your Vehicle
Secure Your Valuables
Take The Keys