Written by Sgt. Steven Lopez
101st Combat Aviation Brigade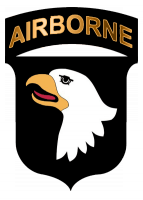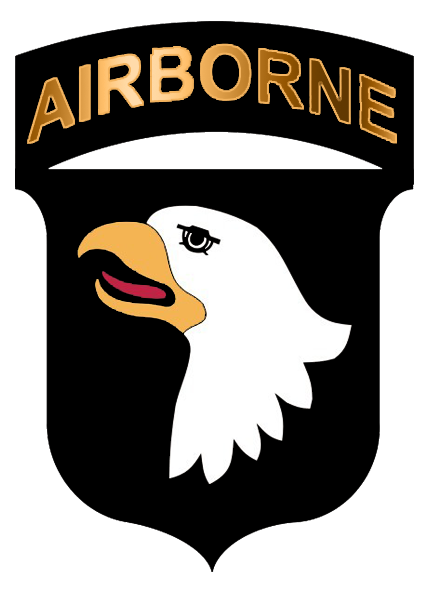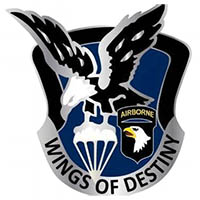 Kandahar Airfield, Afghanistan – As a member of the U.S. Army, the wellbeing of your seniors, peers and subordinates is just as important as that of your own family.
Now imagine if your family members were those people to your left and right. Command Sgt. Maj. John Cole, senior enlisted advisor, and CW2 Bradley Cole, AH-64 Apache Helicopter pilot, with 1st Battalion, 130th Aviation Regiment (Attack Reconnaissance Battalion), Task Force Panther, of the North Carolina National Guard, assigned to 101st Combat Aviation Brigade, 101st Airborne Division (Air Assault).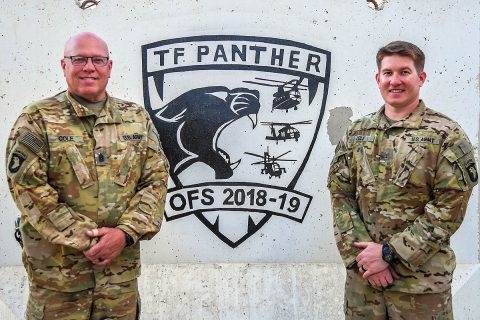 "A lot of folks would think it would be awkward," said John Cole. "I don't think it's awkward at all; he has his job to do and I have mine."
In February 2018, John Cole joined 1st-130th ARB, TF Panther, as they were slated to deploy to Afghanistan and was presented the opportunity of serving alongside his son.
"It was a little weird at first," said Bradley Cole. "People in our unit would put two and two together, and for months people would ask if he was my dad."
Influenced by his father, Bradley Cole joined the military through the Warrant Officer Flight Training program in 2013 to become an Apache pilot. He attended One Site Unit Training at Fort Benning, Georgia and was an infantryman before attending Warrant Officer Candidate School.
"He was a huge influence if not the biggest; I was always super proud of him when I was a kid," said Bradley Cole. "I wanted my children to feel the same way 20 or 30 years down the road."
John Cole said that he naturally felt a sense of worry when his two sons joined the military and it just so happens they both chose inherently dangerous jobs within the Army, an Apache pilot and a Special Forces Soldier, who operates more on the ground than in the air.
Bradley Cole emphasized that one of the reasons he joined the Army and became an Apache pilot was because of his brother. As an Apache pilot deployed with a combat aviation brigade, part of his mission is to provide reconnaissance and aerial support to the Soldiers on ground.
"When in the air, I protect the guys on the ground," said Bradley Cole. "It could be my brother down there, so knowing that gives me that much more passion for what I do."
Even while deployed, the Coles have had some rare opportunities, which if they had been apart wouldn't have been able to experience.
"I had the honor of pinning the rank of chief warrant officer 2 on his chest, it was absolutely phenomenal," said John Cole. "Not everybody gets a chance to promote their son in a combat environment."
John Cole is also a few flight hours away from earning the Army Aviator Badge, which Bradley Cole will pin on him when the time comes.
Bradley Cole said it was a rare opportunity being promoted by my father and in return being able to pin on an achievement of his while deployed.
"It makes me proud to know that we'll have the pictures together and he got to promote me out here," said Bradley Cole. "It's an odd thing that father and son deploy within the same battalion and location, but it's definitely a plus to our story."
A deployment can be challenging in itself and you are expected to face challenges along the way. The Coles, however, had different perspectives when speaking of some of the obstacles they face as family members serving downrange.
Bradley Cole stated having a friendly face while deployed makes it a little easier for him. It's more of a challenge for their family back home as both he and his father are deployed simultaneously.
"There's a challenge with being a command sergeant major and being a father at the same time; that's the challenge for me," said John Cole. "He's my son, but he's not the only Soldier I have."
Despite the different adversities they may face while deployed, the Coles maintain their good relationship in and out of uniform. A son continuing a legacy and tradition alongside a father filled with pride.
"We've always been a close family," said John Cole. "If anything I am more proud of him because he's serving."
"Maybe one day well get to fly together," said Bradley Cole. "He was doing fixed wing training before deploying; I think we'd make a pretty good team in the air."