APSU Sports Information

Birmingham, AL – Much remains to be decided after Day One at the 2019 Ohio Valley Conference Indoor Track and Field Championships, and Austin Peay State University (APSU) track and field will be among those looking to make a big move on the final day of competition at the Birmingham Crossplex.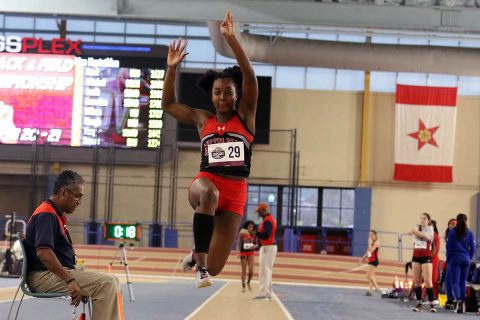 Although the point tally may not be exactly where he'd like it, head coach Doug Molnar was unfazed following the first day of competition.
"We've got a lot of scoring opportunities still out there," Molnar said. "We can have a huge day tomorrow; I'm not too concerned about where our points are right now. We were hoping to have a few more, but as far as our qualifiers and where we're at I'm pretty pleased with that."
The Govs tallied 4.5 points on the first day of competition, with three coming from sophomore Lennex Walker in the long jump. The Chattanooga native's personal-best 5.67m (18-7.25) mark earned her a sixth-place finish and the three points that go with it.
She wasn't done there, either—Walker won the second heat and qualified second in the 60m hurdles with an 8.64 mark, two-hundredths of a second off her personal-best and less than two-tenths behind Murray State's Jabreuna Brimlett.
Senior Nia Gibbs-Francis did her part for the Austin Peay tally, earning a share of eighth and a half-point with a 1.62m (5-3.75) mark. Sophomore Maya Perry-Grimes advanced to the finals in the long jump alongside Walker, but finished just out of the money in ninth with a 5.53m (18-1.75) leap.
"Lennex had a huge day in the hurdles and the long jump," Molnar said. "She and Maya were ranked in the 20s (in the conference) coming in and both made the finals."
Sophomore Sabrina Richman will be busy Thursday. The Atlanta native placed second in the 400m preliminaries with a 55.83 mark—she won the fourth heat—then turned around just over two hours later and earned a spot in the 200m final with a 24.53 mark, qualifying fourth. She'll be joined in the 200m dash final by freshman Kyra Wilder, whose 24.81 mark was both a personal-best and good enough for seventh after winning the eighth heat.
Junior Tymeitha Tolbert will once again be a factor at the top of the 60m dash list; her 7.56 mark in the prelims won the second heat and qualified her third. The Louisville native equaled her season-best, one-hundredth of a second off the school record.
Tolbert just missed qualifying in the 200m dash with a 24.89 mark—two-hundredths of a second behind the qualifying mark—but no one had tougher luck than freshman Tiyanna Johnson on Wednesday. The Cleveland, Tennessee native 7.71 mark in the 60m dash was a personal-best but was one-thousandth of a second behind the time required for a top-eight preliminary finish to advance to the finals.
"We had a good day with good marks," Molnar said. "This conference isn't getting any easier; it's getting tougher and tougher and it's a challenge we'll have to step up to. We had a bunch of kids put up personal-bests and run faster than they have ever and to not make finals is just crazy."
Austin Peay's final Friday point came in the distance medley relay, where the Govs placed eighth with a trio of freshmen (Mikaela Smith, Jessica Kelley and Madison Morstad) and senior Emmaculate Kiplagat combining for a 12:59.94 mark to pick up the point.
"There will be a lot going on tomorrow," Molnar said. "We've got a lot of people able to score in a lot of events. We're looking forward to it; I'm excited to see where this group ends up."
Final-day action kicks off at 9:20am with the women's pentathlon. Track events go off at 12:30pm beginning with the mile run, while the shot put heralds the start of the field events at 1:00pm.