Austin Peay State University Sports Information

Dade City, FL – Back-to-back rounds in the 290s have the Austin Peay State University (APSU) women's golf in the upper-half of competitors through 36 holes at the Spring Break Shootout, hosted jointly by Western Kentucky and Florida Gulf Coast at Lake Jovita Golf Club.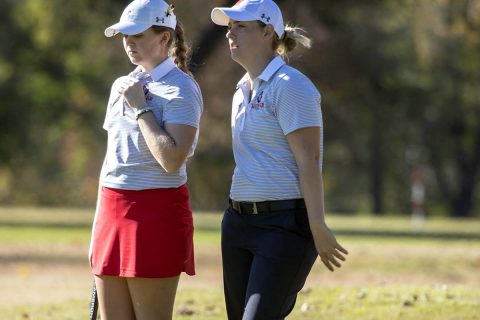 After two rounds, Austin Peay finds itself tied with Arkansas State and Ball State with a 585 and in a fight with both Samford (580) and Jacksonville (584) for the final two spots in the top-five.
Troy (571) is the tournament leader, with the co-host Eagles (572) and Hilltoppers (573) just behind.
For just the third time in program history, the Govs shot better than 300 in each of the first two rounds; both previous times came at the Town and Country Invitational in Nashville, which Austin Peay won the last two seasons. To win, the Govs would have to clear a 14-shot deficit—not insurmountable, but certainly a difficult hill to climb. To do so will likely require fewer pars—which Austin Peay posted 119 of to lead all teams—and more birdies, of which the Govs had 20.
Freshman Taylor Dedmen is right in the middle of the tournament leaders, posting a three-under 139 (69-70) to open play; she's two shots behind Florida Gulf Coast's Ailsa Clark for the overall individual lead. She tied for the tournament-low in par-4 scoring (3.89/hole) and is third overall with 27 pars.
A standout second-round from junior Meghann Stamps brought her rocketing up the leaderboard and into a tie for 13th with a round to play. The Hendersonville native's 68 in the afternoon was tied for second-best and gives her a one-over 143 (75-68) overall. Her six birdies tied her with Dedmen for the team-high through two rounds.
The Goodley sisters each settled into a tie for 45th after the second round. Ashton's 74 was one shot up on Taylor's 75 in round one, but Taylor shot 76 to Ashton's 77 in the second. One shot behind that duo was senior Reagan Greene, who posted twin 76s for a 152; Greene and Taylor Goodley both averaged 5.00 strokes on par-5 holes to lead the Governors.
Freshman Shelby Darnell (78-80—158; t-70th) rounded out the lineup, while sophomores Andrea Presilla (79-74—153; t-60th) and Riley Cooper (80-80—160; t-76th) joined Ashton Goodley as individuals.
Final-round action at Lake Jovita begins 7:30am (CT), Tuesday; the Govs will be paired with Jacksonville and Samford over the final 18 holes.